Anti-Open Grazing Law Targeted At Fulani Herdsmen – Miyetti Allah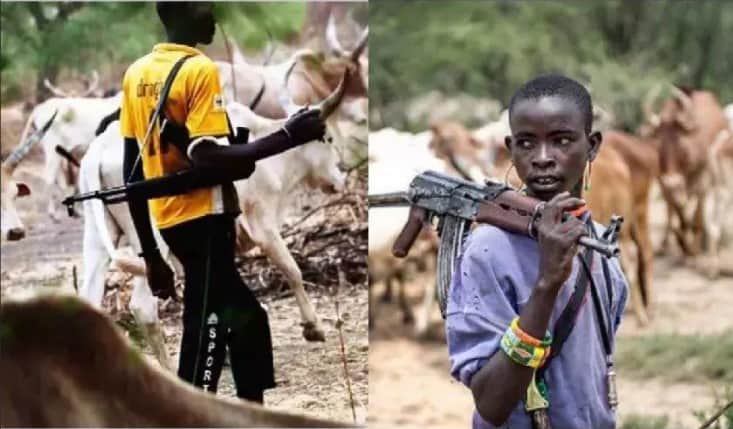 The Miyetti Allah Cattle Breeders Association of Nigeria (MACBAN) has accused state governments of targeting Fulani herdsmen with the Anti-Open Grazing Law.
The South-East Zonal Chairman of MACBAN, Alhaji Gidado Siddiki, made this known in an interview with Daily Trust.
Reacting to a viral video where a man allegedly attacked a rice farmer in Ugbene community in Anambra, Siddiki claimed an herder by the name Adamu Musa was attacked but he luckily escaped from being killed.
He claimed that some individuals accused the herder of attacking a rice farmer when they failed to kill him.
"I was surprised to see a video accusing a Fulani man of attacking a farmer in in his rice farm in Ugbene, when he was the person actually attacked," Siddiki said.
"I am making this statement to put things straight. We cannot be accusing Fulani all the time; even when they are the ones under attack… Instead of telling the world that they attempted to kill the herder, they are accusing the man they wanted to kill of attacking somebody in his farm.
"The herder never attacked the farmer rather the farmers attacked him and he escaped. This is how they have been killing our people. Had it been that they succeed in killing him, nobody will know and nobody will hear about it. It was when they could not kill him and take his cows that they started making noise."
On the anti-grazing law, the Miyetti Allah leader said the law was established to punish some people and destroy their means of livelihood.
"Law must be established for general good and not for stopping some people from practising their business. Nigeria belong to everybody and every body has right to live anywhere and do his/her businesses. They said they want ranching , nobody is establishing the ranches. When you make laws to stop me from my source of livelihood, you must show me the alternative.
"Nobody had told us what to do since we can not be allowed to rear caws again. In fact, it is difficult for anti-open grazing laws to be obeyed. Even in Benue state where it was first established, it is no longer functional because it lacks human face," he said.
He said people hide under anti open grazing law to attack and kill Fulani in the country
Download NAIJA NEWS app: