Residents Flee As Troops Raid Kidnappers' Camps In Imo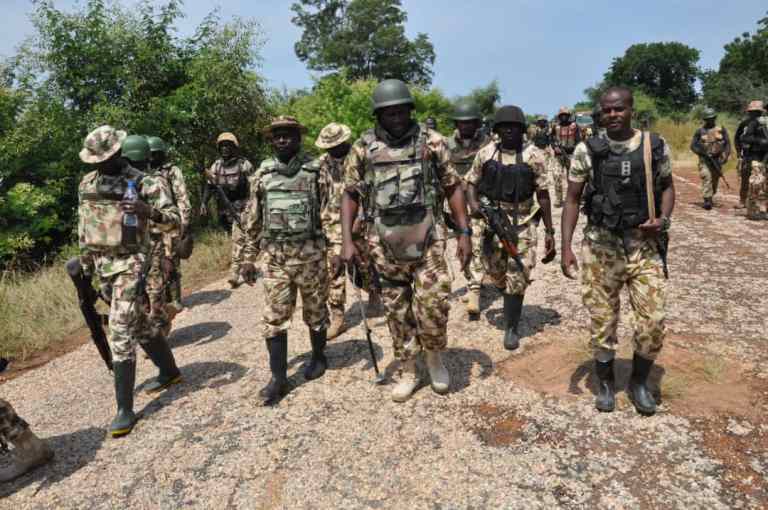 A joint security task force on Friday raided kidnappers' camps in Orsu Local Government Area of Imo State.
Naija News reports that the security operatives stormed the village to arrest the criminals and rescue kidnapped victims held in their dens.
It was gathered that the raid on the hoodlums was in continuation of Monday's military operation in the area.
During the operation, the gunmen barricaded the roads with fallen palm trees, making it difficult for the security operatives to invade the camps.
The gunmen were said to have dug gullies on the roads to prevent security vehicles from gaining access to their camps.
The military vehicles were held up for more than 30 minutes as the security operatives had to use shovels to cover the gullies and saws to cut the fallen palm trees to clear the road.
Meanwhile, a Police Inspector and two other persons have been killed by an angry mob in Yagba-West Local Government Area of Kogi state.
The three persons were killed during an attack on a police station in the community.
According to a statement on Thursday by the Kogi State Police Spokesperson, William Aya, the incident took place on Tuesday.
He explained that the Police, in collaboration with other security agencies including hunters and vigilantes had apprehended some robbery suspects in connection with the robberies at three banks in Odo-Ere and Egbe towns in the LGA.
The suspects were arrested at Oke-Ere Hills, Naija News understands.
However, after the arrest, some people from the community had stormed the Odo-Ere police station where the suspects were kept and demanded they be released to them for lynching.
All appeals by the Police operatives fell on deaf ears as the mob got more irate. It was in the process that a policeman fired shots that killed two persons in an attempt to disperse the crown, Aya narrated.
Download NAIJA NEWS app: