I Will Never Support Nigeria's Breakup – Obaseki Says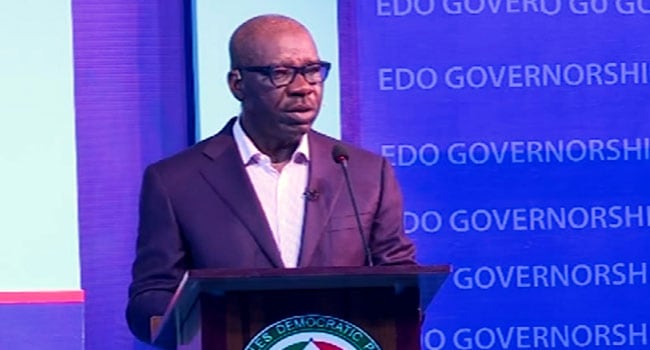 Governor Godwin Obaseki of Edo State has disclosed reasons why he would never support the break up of the country.
Naija News reports that there have been sustained calls for Nigeria's break up particularly from some notable secessionist agitators like the IPOB leader, Nnamdi Kanu and the Yoruba Nation arrowhead, Sunday Adeyemo aka Sunday Igboho.
Obaseki stated that he will continue to support a united Nigeria because some people made sacrifices to ensure a stable and indivisible country.
He asserted that the break up of the country is not the way to go, adding that secession will be unfair to those who paid the price for the country's unity.
Obaseki made the submission at the launch of the 2022 Armed Forces Remembrance Day emblem on Thursday in Benin, the Edo capital.
He said: "We should not encourage the kind of rhetoric that we have been parading in this country today about the unity of our great country. Nigeria has come to stay, and Nigeria cannot and will not be divided.
"It has to be so, because people have paid a supreme sacrifice to keep this country together, and it will not be right or fair to do anything to make it look as if those people who fought for this country did not know what they were doing.
"As a state and a country, we remain very optimistic that despite the threats of insecurity and banditry which we face as a country and a state, that we will overcome.
"We are hopeful that we will continue to secure our state and our country because we have courageous people like you, who are ready to serve and sacrifice for the country.
"That is why we take events like this very seriously and to encourage the younger ones what sacrifices for the country means and also to encourage those of you who are in service that your efforts will not be in vain."
Download NAIJA NEWS app: