You Lied, Tinubu Didn't Build My Lagos House, Adebanjo Replies Akande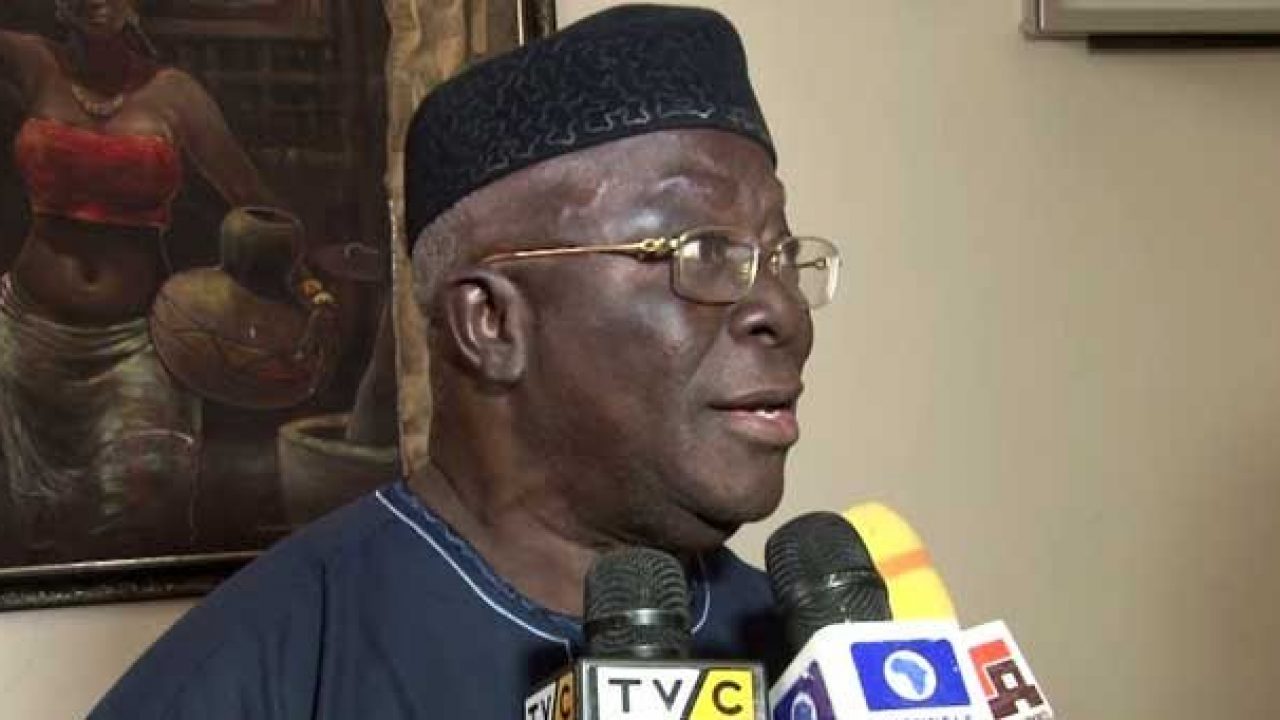 The leader of Afenifere, Pa Ayo Adebanjo has reacted to the allegation made against him by former Governor of Osun State, Bisi Akande.
Naija News reports that Akande had claimed that Adebanjo begged the national leader of the All Progressives Congress (APC), Bola Ahmed Tinubu, to build his house in Lekki, Lagos State.
Akande made the claim in his 559-page autobiography titled "My Participations," launched in Lagos last week Thursday.
The pioneer APC National Chairman added that Tinubu accepted to help Adebanjo build his Lagos home after he had given him the land Certificate of Occupancy.
Akande had said: "One day, Sir Olaniwuni was launching a book at Muson Centre, Lagos. After the book presentation, Tinubu said I should not go and that he would like to see me. We met in a small room where he also invited Sir Olaniwun Ajayi. 'Papa, you can see that this document is old, Tinubu said as he handed over a big envelope to Ajayi. This is your C of O (Certificate of Occupancy)!'
"Tinubu told me later that after he presented Adebanjo's C of O to him, Adebanjo was always pestering Tinubu until he helped build a house on the plot. The street was also named in honour of Adebanjo and he is living in that house now at Lekki Phase One."
Reacting to the allegation in a statement on Thursday, Adebanjo denied the claims that his Lekki home was built by Tinubu and that he begged the APC leader to help him construct the edifice.
The Afenifere acting leader added that Akande was mischievous in his book, adding that he expected Tinubu to have denied the claim made by his best friend.
Adebanjo stated that he personally built his home with a bank loan and personal savings, asking Nigerians to disregard the baseless allegation made by Akande.
He said: "I hold this view because Bola Tinubu just some 3 years ago on the occasion of the presentation of my auto-biography 'SAYING IT AS IT IS' that for my incorruptibility and strength of character he Bola Tinubu would not have been Governor of Lagos State in 1999. What then could he be demanding from me after his two-term governorship to make me pressurize him to build a house for me when I did not get a naira from him before he became the governor?"
"I, therefore, deny categorically that my house at Lekki was built with my resources through the sale of 3 developed properties, loan from GTBank, and the sale of undeveloped landed property given me by my late leader Chief Obafemi Awolowo of blessed memory.
"The details are as follows: A 4 bedroom duplex with a 2 bedroom flat enclosed with 2 undeveloped plots at plot 4, block 14, Nuru Oniwo Street, Aguda Surulere, Lagos State, this is where I was living before moving to Lekki.
"A wing of the duplex was once occupied by a staff of the security outfit then known as "special branch" headed then by the late Alhaji M.D. Yussuf who later became Inspector General of Police when General Olusegun Obasanjo was the Head of State. It was later occupied by one of the wives Chief Pius Akinyelure, who often visit his wife there in the company of Senator Bola Tinubu.
"I inherited the plot of 45'X100' from my mother Salamotu Anomo-Adebanjo, who built a bungalow on it. The building was sold to a woman through an estate agent. I then took a loan from GTBank to complete the house in Lekki where I am living now.
"The Lekki property, the house in my village, Isanya Ogbo, and 3 Bedroom flat in a townhouse, at Omorinre Street in Lekki are the properties I have in the whole world. I hereby authorize the EFCC to verify the above facts."
Download NAIJA NEWS app: