Employ Special Forces To Fight Bandits, Tambuwal Tells Buhari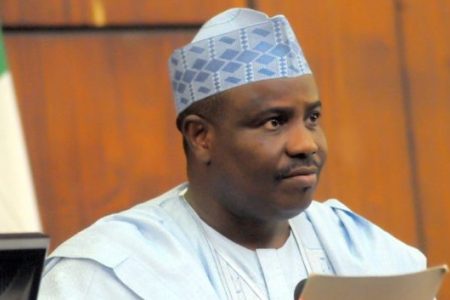 Former Speaker of the House of Representatives and Governor of Sokoto State, Aminu Tambuwal, has proposed a solution to curtail the activities of bandit terrorists.
Tambuwal advised the Muhammadu Buhari-led government to employ the services of Special Forces to fight the criminals.
He made this known on Wednesday in Sokoto when he received his colleagues from the North-west region led by Governor Aminu Masari of Katsina state.
The governors were in the state to condole with the state over the gruesome murder of 23  travellers by bandit terrorists.
Speaking further, Tambuwal said the special forces could be deployed as forest guards to fight the bandits in their enclaves.
He added that the special forces, who are skilled and have modern firearms to confront bandits, will complement the fight against banditry.
He said: "Bandits have no religious, ideological or ethnicity inclinations; they are notorious criminals terrorising law-abiding citizens.
"The recruited persons shall serve as special forces equipped with right skills and modern firearms to confront bandits since the locals know the terrains.
"After the special mission, the recruited persons could be re-engaged as forest guards to prevent new security challenges.
"In Sokoto state, we outlawed the self-styled vanguards referred at 'Yansakai' whose activities of extra-judicious killings led to reprisals and escalation of the situation."
The governor said the situation in the country requires everyone involved in tackling the menace irrespective of political persuasion.
He said: "All hands must be on deck to check banditry and to support President Buhari at all levels to contain the situation.
"This situation calls for specialised approach with a holistic support from community groups, religious leaders and other individuals to tackle."
On his part, Masari expressed his condolences to Sokoto state on the recent attacks by bandits, noting that measures are being put in place to address the situation.
He said: "Bandits behave worse than animals in view of the atrocities they perpetrate; people need to protect themselves.
"Police and other security personnel are inadequate, so we shall not wait for those barbaric bandits to maim and kill people at random.
"We shall confront them and deal with them the way they are supposed to be dealt with. It is no longer a blame game, rather we shall shun political differences to support authorities on containing the situation."
Download NAIJA NEWS app: