Marriages Conducted By Ikoyi Registry Are Illegal – Court Rules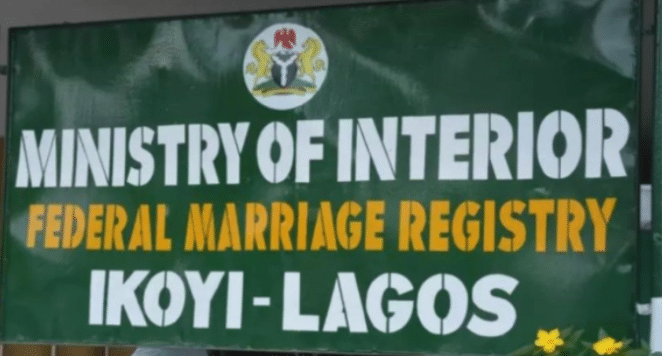 A Federal High Court in Lagos has ruled that marriages conducted by the Ikoyi registry and other marriage registries operated by the Federal Ministry of Interior are illegal.
Justice Daniel Osaigor gave the ruling on Tuesday in a suit filed by Eti Osa Local Government Area of Lagos state against the ministry.
In the suit, the local council had challenged the ministry's power to operate marriage registries, conduct marriages and issue marriage certificates.
The council also urged the court to order the closure of all marriage registries opened and operated by the ministry, saying that the federal government has no power to conduct marriages and issue marriage certificates.
Delivering his judgement, Justice Osaigbor ruled that it is unconstitutional for the federal government to take over and perform the duties of local governments.
The judge said local governments are statutorily responsible to conduct marriages and issue certificates in the country.
Meanwhile, President Muhammadu Buhari on Tuesday met with a delegation from Katsina State led by Governor Aminu Bello Masari.
The delegation also had some elders from Katsina State on board, Naija News reports.
The delegation was hosted at the Aso Rock Presidential Villa in Abuja and they discussed challenges of insecurity ravaging the state with the president.
The meeting was confirmed in a Facebook statement by the President's personal assistant on new media, Bashir Ahmad who also shared photos from the meeting.