Nnamdi Kanu, Sunday Igboho Are Uneducated Literates – Gumi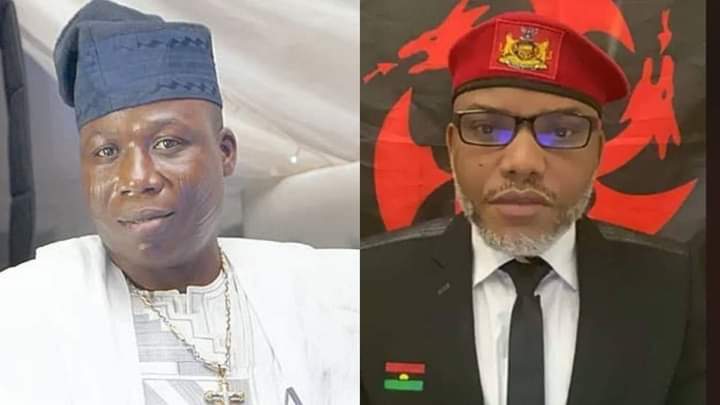 Controversial Islamic cleric, Sheikh Ahmad Gumi has described the leader of the outlawed Indigenous People of Biafra (IPOB), Nnamdi Kanu, and Yoruba Nation agitator, Sunday Igboho, as half-baked and uneducated literates.
In an interview with Premium Times on Sunday, the Kaduna-based cleric slammed the agitators for calling for secession and promoting tribalism in the country.
Gumi asserted that the secessionist agitators are still stuck on old and retrogressive idea, adding that they need to be reorientated or re-educated.
He said: "All the secessionist agitators are half-baked and uneducated literates. We are in the 21st Century, man is going to space for tourism but you are still talking about my region, my tribe.
"What is a tribe? What has your tribe contributed to humanity and do you think that you are better than other tribes? Islam has taught us that the best of you is one who fears Allah; not tribalism, because tribalism is an old and retrogressive idea, so anybody calling for that needs to be re-educated if he is educated."
Speaking on the 2023 Presidency and the debate on power shift, Gumi asked those calling for a rotational presidency to drop the idea.
The cleric stated that the concept of powershift is archaic and retrogressive, saying that Nigerians should stop looking at themselves from regional, tribal, or even religious affiliation.
Gumi stated that the next president should be someone who is competent, who can unite Nigerians, bring economic prosperity for the nation, and guarantee peace and stability in the country.
He said: "Powershift is archaic, retrogressive and old. Now as Nigerians, we should not look at ourselves from regional, tribal, or even religious affiliation bases because, even religion which is very strong, whose religion or ideology are you going to adopt? You see, it will bring crisis.
"We just look at competency, who can unite Nigerians, bring economic prosperity for the nation, peace and stability. This is what we should be looking at."
Download NAIJA NEWS app: