Pastor Nabbed After 'Anointing' Female Member With His Manhood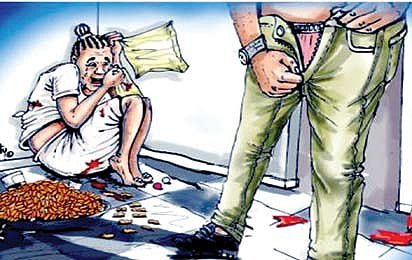 A self-proclaimed pastor in Ondo State, Gbenga Filani has been arrested for allegedly raping a married woman inside his Church.
Naija News learnt that the suspect is currently being grilled at the Criminal Investigation Department of the Police Headquarters, Igbatoro Road in Akure, the state capital.
According to reports, the Celestial Church of Christ, CCC pastor had invited the victim who is carrying a five-months-old pregnancy into his church for deliverance.
The 19-year-old victim whose name is withheld explained that Filani who is also known as a presenter of a popular programme in the state, inserted his fingers into her private part and thereafter used his manhood to apply 'anointed oil inside her.
Naija News understands that the victim had reported the incident after she allegedly started noticing a strange situation with her pregnancy following the act.
Narrating her ordeal at the police headquarters, the victim said: "He dipped his middle finger with oil into my private part. He said my baby is vertical instead of being horizontal. He said he would put oil in my private part and would help me insert it with his private part so that the oil would get into the baby.
"He rubbed oil on his private part and asked me to open my legs. He then had sex with me. He said he was not supposed to do it but helped me because my husband was not around.
"It was after he had sex with me that I came into my right senses. He said I should swear that I should not tell anyone including my mother. He said I will die if I told anybody," she said.
The Police Public Relations Officer, PPRO, in the state, DSP Funmilayo Odunlami has confirmed the arrest of the broadcaster, noting that investigation is still on.