'My Products Are Already Working On You' – Jaruma Replies Ned Nwoko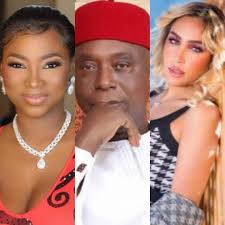 Popular aphrodisiac seller Saudi Mohammad, popularly know as Jaruma has responded to billionaire, Ned Nwoko's statement.
Recall that Naija News earlier reported that the billionaire's media team had posted a statement saying that Jaruma's product was not responsible for the divorce between him and his Moroccan wife Laila Charani.
The statement maintained that the reason for the divorce was Laila's plastic surgery and her meeting with a strange man.
According to Nwoko's media team, the aphrodisiac seller's husband had left her, therefore if she could not use her product to keep her husband why should it be effective on someone else.
Responding to the statement, Jaruma took to her Instagram page to condemn the billionaire's decision to call her out and revealed that the products were working on him because his statement looked like something Regina forced him to do.
She maintained that Nwoko did not treat his divorced wife well as she claimed that Laila adored him.
The mother of one said it was quite a shame that the 74-year-old man refused to acknowledge the alleged murder of Sylvester Oromoni instead made a statement on an issue she had with his wife three weeks ago.
She expressed disappointment at his actions and insisted that it was a sign he was under the influence of her kayanmata.
https://www.instagram.com/jaruma_empire/tv/CXQk4uHFHiJ/?utm_medium=copy_link