My Bond With Akande Can Never Be Broken – Tinubu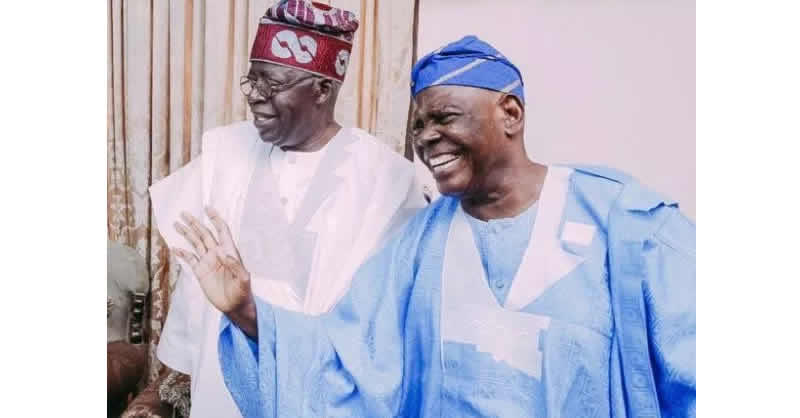 National leader of the All Progressives Congress (APC), Bola Ahmed Tinubu, says his connection with the former governor of Osun State, Bisi Akande, is so strong and cannot be broken.
Tinubu on Thursday at the public presentation of the autobiography of Akande, titled: "My Participations," in Lagos State described Akande as a hero, selfless leader and a self-disciplined politician.
He stated that Akande represents what a public figure in Nigeria ought to be, asking younger politicians to emulate the APC chieftain.
"The connection I share with Chief Akande is longstanding and broad. We have been fellow travellers in the struggle for democracy and progressive governance.
"We also shared similar backgrounds in Accounting and Finance. We both honed our accounting skills in oil companies, Baba in British Petroleum, me in Mobil, before our forays into politics.
"Being a key light in our political firmament, whatever Baba says about his life also doubles as an intimate account of the political story of Nigeria. Baba Akande represents what a public figure in Nigeria ought to be. He is what many should aspire to be.
"From humble beginnings, Baba Akande rose through hard work, intellect, courage, perseverance, sacrifice, dedication and what he called 'self-tuition'," he said.
The former Lagos governor added that the formation of APC in 2013 could not have been possible without the valuable effort of Akande.
He said: "People saw in him the rare combination of the gifts of fairness, tolerance and vision. Because of this, he was chosen as chairman of the AD, AC and ACN. As a crowning achievement regarding party leadership, he served as the APC interim chairman, helping to shepherd the historic merger of several major parties into one.
"Without Baba Akande's sage guidance, that merger might never have come to pass. We owe him deep gratitude for his singular devotion to consummating the complicated merger in such a positive manner that then Candidate General Muhammadu Buhari was able to demonstrate his popularity by achieving a monumental victory in the 2015 election."
"Among important issues highlighted in the book is the historic merger of the ACN, CPC, ANPP and a faction of APGA in the APC. Writing on Page 445, Chief Akande gave the background to the alliance. He wrote: "In the new year of 2013, Bola Tinubu began to engage me consistently on the need for the Yoruba in the South-West to work politically together with the Hausa and Fulani of the North-West.
"He suggested and encouraged me that we both visit Muhammadu Buhari in Kaduna. It was my first time meeting Buhari in his home and I was attracted to his personal values and austere life. We joined him at lunch, chatted heartily and agreed to work together again. Things began to happen quickly thereafter."
Download NAIJA NEWS app: