How Akande Helped Chase PDP Out Of Aso Rock In 2015 – Buhari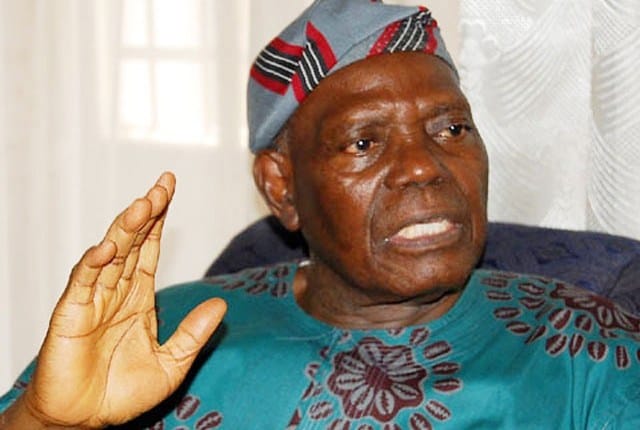 President Muhammadu Buhari has appreciated the former interim National Chairman of the All Progressives Congress (APC), Bisi Akande, for his contribution in unseating the Peoples Democratic Party (PDP) government.
The Nigerian leader submitted that Akande was steadfast in his quest in ensuring that APC takes over power from the then ruling party, PDP in 2015.
He stated that Akande helped fuse together different parties that became APC in 2013 and dislodge PDP from governance.
Buhari made this known on Thursday in Lagos at the Eko Hotel and Suites, Victoria Island, Lagos during the public presentation of the autobiography of Akande titled, "My Participations."
He asserted that Akande's vision for APC and his leadership qualities made him the unanimous choice as the first Chairman of the ruling party, describing Akande as a reliable and trustworthy politician.
Buhari in a statement issued by his spokesman, Femi Adesina, said: "My first personal contact with Chief Akande was, if I recall correctly, in 2006 when preliminary consultations were coming to fruition for a grand coalition to unseat the PDP Government.
"Those efforts eventually came to nothing. Neither he, nor I, nor many of our friends and associates gave up as, in Chief Akande's words: "the country was going down and down under PDP" (p.396 of My Participations).
"Chief Akande was in the thick of further attempts in 2011 and 2014 to fuse together different groups and dislodge PDP from governance.
"The key to his thinking which coincides with mine is that Nigeria can only be successfully managed by alliances between major groups.
"Although we failed in 2011, by persistence and knowledge that PDP was driving the country towards disaster, several major parties were able to finally coalesce into APC in 2014.
"Chief Akande was unanimously chosen as the first Chairman of this great coalition.
"Throughout the difficult negotiations, I found Akande truthful, steady and always with an eye to the ultimate goal.
"In or out of office, he has retained his inflexible integrity. On p.400 of his book, he wrote: 'I never gave to or demanded bribe from anyone all my life.' A perfect gentleman. A perfect public officer."
Download NAIJA NEWS app: