Thief Made To Dance With Bottle Of Malt After Being Caught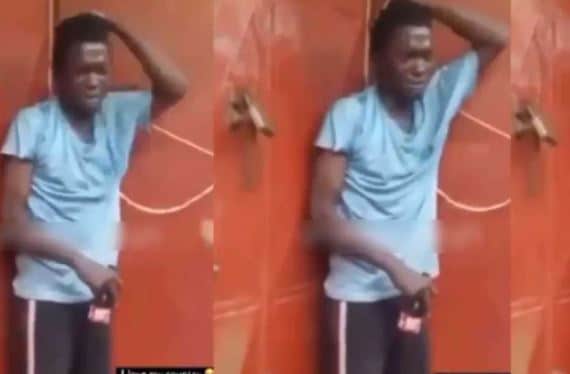 A robber caught stealing has been given a unique punishment by some youths in Ghana.
In the trending video, the visibly remorseful thief was given a soft drink and asked to dance to Ghanaian music.
This is unlikely, as angry mobs will usually bundle a thief and hand them over to the police or beat them to a pulp.
But this case was different as the thief was asked to entertain the mobs by dancing with a soft drink in his hand.
Although at first, the thief was reluctant to do so but then decided to dance after he was shouted at
Watch the video which has caught the eyes of many below;
Meanwhile, a viral phone thief was recently arrested after using an iPhone 12 pro max to borrow eight thousand naira in Lagos.
Naija News understands that the suspect, yet-to-be identified had stolen the phone some couple of days ago inside a store at computer village in Ikeja, Lagos.
The shop owner had shared a CCTV video on social media, pleading with the public to help with the identification of the thief.
Narrating the process, Omo Nna said, they tracked the phone down to a moneylender who alleged that the suspect had used the stolen phone to collect a sum of eight thousand naira.
Sharing the details, he wrote; "We caught him, Thank y'all for the Retweet! He used a whole Iphone 12pro to borrow N8,000 from his friend… so we tracked the phone down to the money lender, which he gave us details of how we can grind the guy."
Download NAIJA NEWS app: