Nnamdi Kanu's Lawyer Cries Out Over His Client's Treatment In DSS Custody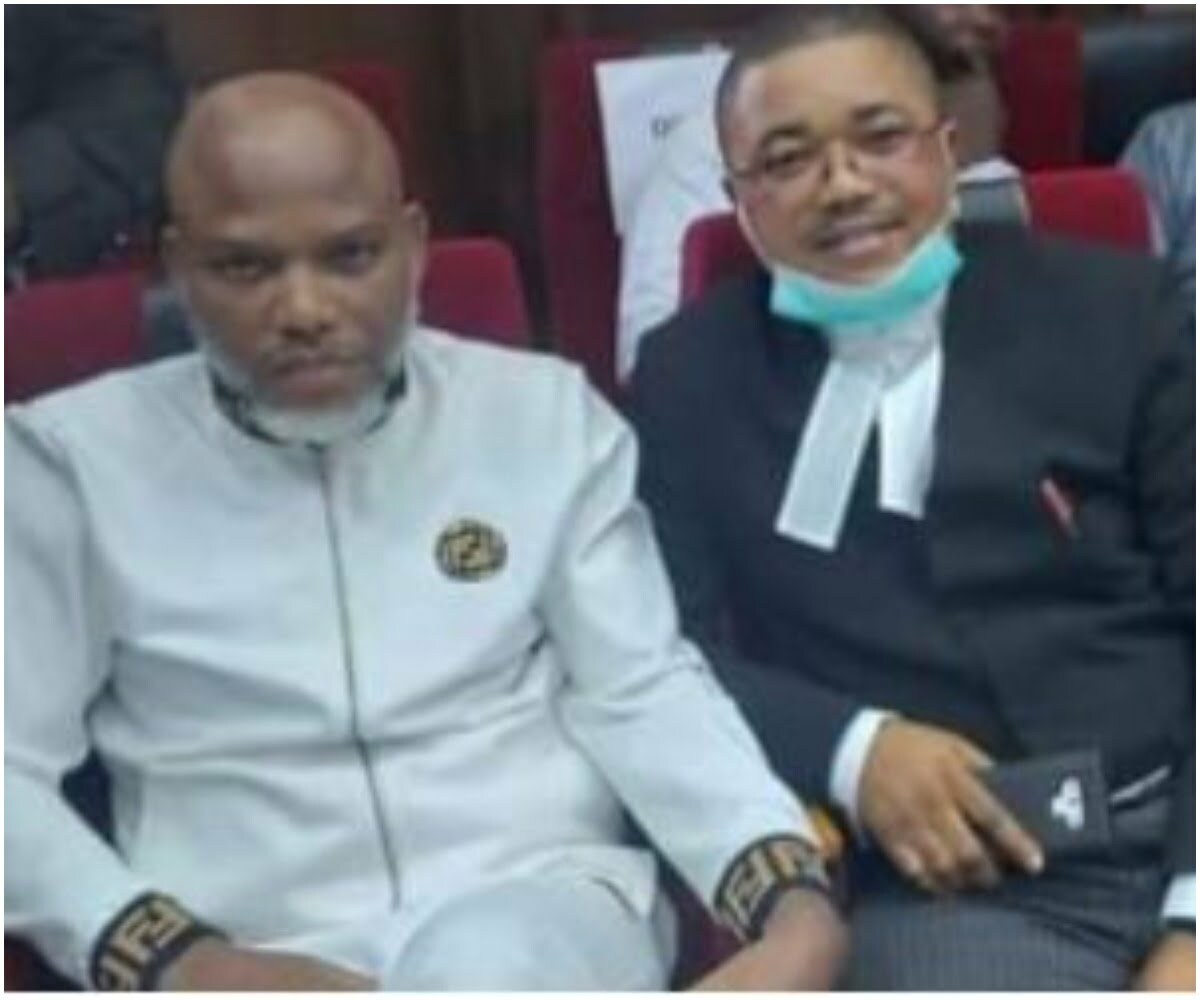 Ifeanyi Ejiofor, lawyer to the embattled leader of the proscribed Indigenous People of Biafra (IPOB), Nnamdi Kanu, has accused the Department of State Service (DSS) of denying his client maximum possible comfort as directed by the court.
Ejiofor made the accusation in a statement was titled, 'Update On Today's Visit To Our Indefatigable Client – Onyendu Mazi Nnamdi Kanu At The Headquarters Of The Department Of State Services (DSS) Abuja'.
Naija News reports that Justice Binta Nyako of the Federal High Court in Abuja on December 2, 2021, ordered the secret police to allow Kanu to practice his faith, change his clothes, among other things while in custody.
After delivering the ruling, Justice Nyako adjourned the trial of the IPOB leader till January 18, 2022.
In the statement issued on Tuesday, Ejiofor berated the DSS for failing to obey court orders granting his client maximum comfort in detention, describing the action as "totally unacceptable, grossly condemnable, and intolerable."
He stated that the continuous disobedience of court orders by the DSS is becoming worrisome, asking the judiciary to address the ugly trend.
Ejiofor submitted that his routine visit to Kanu in DSS custody on Monday reveals that his client has been denied his medical report after taking his blood more than 21 times.
He wrote, "We were informed by our client – Onyendu Mazi Nnamdi Kanu that none of the pronouncement made by the Court on the 2nd of December 2021 has been obeyed by the lawless DSS. They have unrepentantly continued to treat the Orders of the Court with the greatest disdain.
"Our client – Onyendu Mazi Nnamdi Kanu further informed us that he had not eaten anything since Sunday, apparently being punished because we dared to complain to the court about the harsh condition under which he is being held in custody. But, very, unfortunately, this should be the height of their reckless affront to the orders of the court.
"At the time Her Lordship made these far-reaching orders in open court, I did not mince words in bringing to the attention of the court that the operatives of the DSS will flout these orders, pursuant to which the court specifically directed me to come back to her with these facts if her order is flouted by the detaining authority.
"The detaining authority (DSS) is an Agency clearly established by instrumentality of the laws and should operate within the confines of the same laws establishing them, and should not be seen as a lawless entity, which unfortunately is what they represent in practice."
Ejiofor vowed to approach the court immediately with the development, stating that Kanu has not been convicted of any crime.
Download NAIJA NEWS app: