Jerry Gana Reveals When Agitations Across Nigeria Will Stop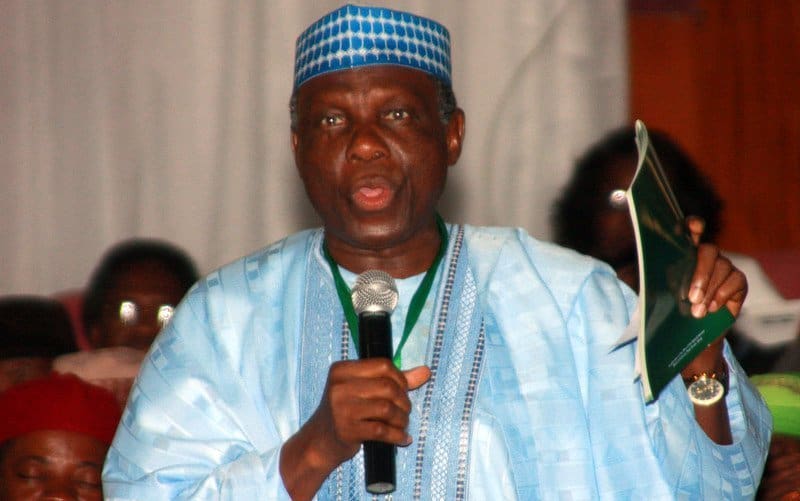 A former Minister of Information and Culture, Prof Jerry Gana, has revealed that some of the growing agitations across the county will not stop until the 2014 National Conference report is implemented.
Gana submitted that the non-implementation of the confab report was largely responsible for the disunity and secession agitations of the outlawed Indigenous People of Biafra (IPOB) and the Yoruba Nation group.
The Peoples Democratic Party (PDP) stalwart stated that the implementation of the report would also curb the tension in the country as a result of the farmers-herders clashes.
Gana made this disclosure during the thanksgiving service to mark the 90th anniversary of the Urhobo Progress Union (UPU) Worldwide, held in Uvwiamuge, Delta State, on Sunday.
He also berated President Muhammadu Buhari for his failure to implement the report which was transferred to him by his predecessor, ex-president Goodluck Jonathan.
The former minister, however, condemned the calls for the break up of the country, saying a united Nigeria is the only way to achieve peace, progress, justice and fairness.
"We, in the middle belt of Nigeria, are great lovers of peace, justice and fairness. The last administration convened a national conference in 2014 and we agreed on certain fundamentals to ensure justice and fairness. Unfortunately, when this government came in, they made a terrible mistake. They never touched that report and that is the problem.
"That's why we are now saying we should start that conversation. We should talk to one another and assure one another of justice and fairness, because, without equity, there can't be peace. Without equity, we cannot be together. Let me appeal to the federal government to promote peace, equity and justice. Let me also appeal to those people, who are agitating that there's tremendous power in being united. Let's not fight to scatter and divide Nigeria. We are better being together," he said.
Download NAIJA NEWS app: