Those Who Conspired Against Me Wanted Me Dead At All Cost – Orji Kalu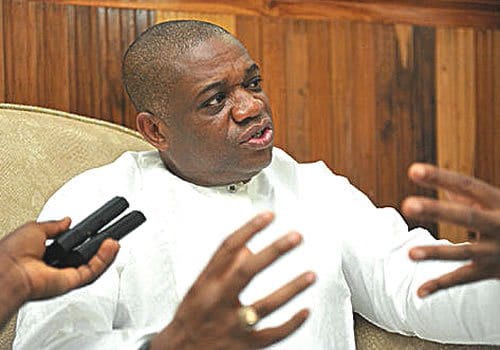 The former Governor of Abia State, Orji Uzor Kalu, has accused his political opponents of orchestrating his detention in Kuje prison.
He made this known in an article titled, "Kuje: Two years after" to commemorate the second anniversary of his detention in Kuje Correctional Service in Abuja.
The Chief Whip of the Senate said his "enemies' conspired against him and wanted him dead at all cost. He added that his perception of life changed after the six months of incarceration.
Kalu, however, thanked God, friends and compatriots, who stood by him in the six months he was in Kuje prison.
He said, "Those who conspired against me wanted me buried at all cost, but like the biblical Job, there is a sense in which God allowed those temporary and tragic events to happen to Job. My perception of life changed after the six months of incarceration – life is vanity. I did not just learn a lot of lessons, I became a reformed and better man.
"I was very impacted by what happened to me. For some, my imprisonment may have meant different things to them; but for me, my family, friends, business and political associates, supporters, as well as well-wishers, it was destiny at play.
"For all my friends and colleagues sitting in the upper and lower echelons who stood by me and the people of Abia North during the trying period, I remain very grateful. Throughout the six months, I ate once a day. I am so much grateful to my lovely wife for her timely delivery of the food."
The former governor said people are jealous and envious of successful people in the country because they also want to enjoy the good things in life.
Kalu added that envious people do not consider the hard work, energy, endurance, and patience successful people put in building businesses and their life.
He, however, asked Nigerians to love one another and show compassion irrespective of their tribe or religious differences.
He said: "The hatred, jealousy, betrayal, greed, bitterness in this country is enormous and terrible. People will just hate, curse, and envy you because you are successful, without considering how much hard work, energy, endurance, and patience you have expended in building businesses and your life.
"How I so much wish for love and empathy in this country. How I wish we can embrace and love each other. How I wish people could be more loving and considerate towards their neighbours with zero sentiments of tribe and language. How I wish people can have respect for human lives. I hope that with God on our side, our dreams will someday come true.
"Today (Sunday) is the second anniversary of my incarceration at the Nigerian Correctional Service Medial Security Custodial Centre, Kuje, Abuja. I was imprisoned for an offence I never committed. Despite all the witnesses rescuing themselves, I was pronounced guilty of 39 charges out of the 39 concocted charges levelled against me. What magic!"
Download NAIJA NEWS app: