Myanmar Soldiers' Car Rams Into Protesters, Kill Five – [Photos]
Five people have been confirmed dead after Myanmar Soldiers' vehicle rammed into a group of protesters.
Naija News understands that the incident happened on Sunday morning, December 5, in the Yangon region of the Asian country.
It was gathered that many persons were severely injured and at least 15 were arrested by the Myanmar security forces which thrust its car on the anti-coup protesters.
Photos and videos shared on social media and news platforms show how the security men's vehicle crashed through the protesters, leaving their bodies lying on the road.
Naija News understands that anti-military protests have gained wings in the region and have refused to stop their demonstrations despite the killing of more than 1,300 people since the Feb. 1 coup.
The scattered protests are often small groups voicing opposition to the overthrow of an elected government led by Nobel laureate Aung San Suu Kyi and the return of military rule.
The opposition's shadow government had said in a publication that it was heartbroken to see peaceful protesters crash and shot to death.
"We will strongly respond to the terrorist military who brutally, inhumanly killed the unarmed peaceful protesters," the National Unity Government's defence ministry said in a statement on social media after Sunday's attack.
In the incident, a "flash mob" protest in Yangon, Myanmar's largest city, was rammed minutes after it started," Reuters quoted an eyewitness as saying.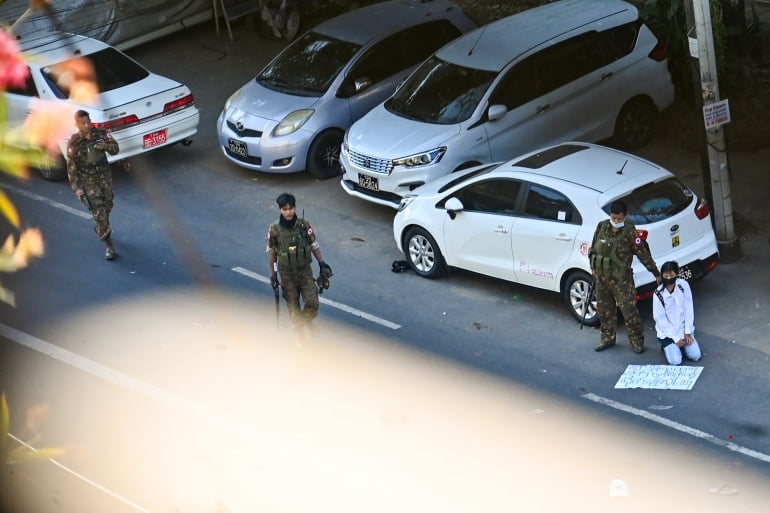 Narrating his awful experience with the incident, a protester who spoke on anonymity with Reuters reportedly said: "I got hit and fell down in front of a truck. A soldier beat me with his rifle but I defended and pushed him back. Then he immediately shot at me as I ran away in a zig-zag pattern. Fortunately, I escaped."
Two other witnesses alleged that the car occupied by soldiers hit the crowd from the back, "scattered protesters, arresting and beating them. Some were seriously injured with head wounds and left unconscious."
According to the report, the military had admitted to hitting on the protesters, saying that they instigated the violence.
The military, according to Reuters has also said it staged the coup because a November election won by Aung San Suu Kyi's party was rigged, a claim the electoral commission has dismissed.
Download NAIJA NEWS app: