2023 Igbo Presidency: Northern Groups Reject Ezeife, Tell Him Who To Beg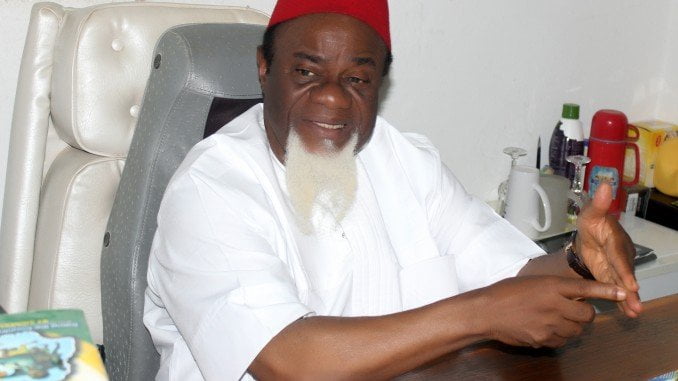 The Coalition of Northern Groups (CNG) has told former Anambra State Governor, Chukwuemeka Ezeife that they won't be deceived by any planned begging to concede the 2023 presidential election to the Igbos.
This is as the Northern coalition alleged that the southeast can't be trusted with power based on their antecedents.
The CNG added that Ezeife and his people should rather go and beg the leader of the proscribed Indigenous People of Biafra (IPOB), Nnamdi Kanu whom he accused Igbo leaders of using and dumping.
The CNG in a statement by its spokesperson, Abdul-Azeez Suleiman said Igbo leaders pushed Kanu to do all that he did in the past but abandoned him after the government moved against him.
According to Suleiman: "Igbos have, by their conduct, denied themselves the opportunity to be trusted with power in the near future.
"It is deceptive for them to make such overtures after having encouraged and supported Nnamdi Kanu, the leader of the outlawed Indigenous People of Biafra, IPOB, and the atrocities committed against other Nigerians, particularly northerners by his IPOB.
"If the Igbo must prostrate to anyone, they should prostrate to Kanu as the North has come of age and shall not be deceived or fooled any longer."
The CNG position and statement comes after Ezeife had stated that the Southeast is ready to beg and appeal to other regions to get the 2023 presidency.
Naija News reports that the elder statesman said this while speaking at the United for Better Nigeria Initiative National Convention in Abuja on Saturday.
According to Ezeife, the Southeast region is ready to kneel down, even prostrate and beg in order to get an opportunity to produce President Muhammadu Buhari's successor.
While insisting that the presidency is not given to anyone, he said it was the right time for Ndigbo to produce the next President of the country.
The former governor urged Igbos to swallow their pride, reach out to other regions and beg for the 2023 presidential seat.