Some People Within Buhari Govt Trying To Pull Him Down, I Have Facts And Figures – Yahaya Bello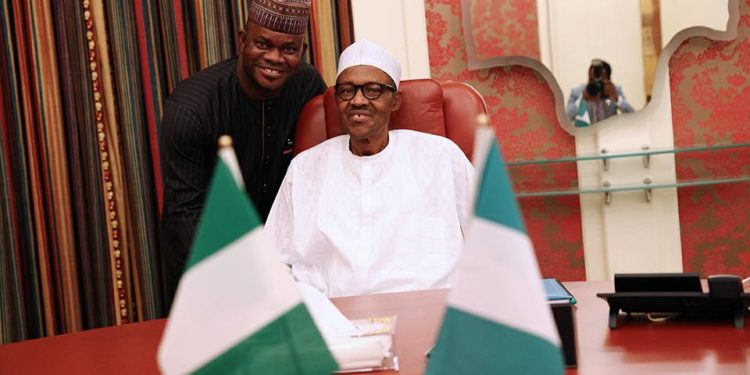 Kogi State Governor, Yahaya Bello has alleged that some people within the administration of President Muhammadu Buhari are sabotaging his efforts.
The Kogi State Governor said he has facts and figures to back up his claims, challenging anybody who thinks it's a lie to show up and he will give proof.
Bello said these saboteurs are doing everything within their powers through their actions, utterances, inactions, and even silence to pull down the Buhari government.
He made the claim on Sunday when he played host to traditional and political leaders from Kebbi and Sokoto States at the Kogi state's government lodge in Abuja.
The Kogi Governor lamented that its is bad enough that Buhari inherited a sinking ship in 2015 when he became the President of Nigeria, but it's rather unfortunate that some people who should be helping his efforts to stabilize the ship are the very ones now trying to pull him down due to their selfish interests.
"The President inherited a sinking ship but has to prevent it from sinking. Probably, any other person wouldn't have been able to do better than what he is doing in the circumstance he found himself. We might be thinking that is he not the same Buhari of 1983? He is the same person but the situation then is different now.
"The president did not just inherit those troubles. The president is leading from a very difficult angle. People who were supposed to support him are the ones that are pulling him down by their actions, utterances, inactions and by their silence.
"This is the situation the president found himself in from 2015 to date. And let anybody challenge me with what I said and I will prove it with veritable figures and facts," Bello said.
Bello went further to balme these alleged saboteurs for the recorded failures of President Buhari since he assumed power democratically in 2015.
The Governor argued that Buhari had shown what he could do when he was a military head of state but those working against him now are the ones preventing him from opeating at full capacity and making it seem like he is unable to defeat the Boko Haram Terrorists and other insurgents, adding that he has faced a similar situation in Kogi State but the resolve to fix the nation remains undetered.
His words: "But people are now asking that is it not under the same Buhari the refineries were built? Is it not the same Buhari that was able to build roads, hospitals and other infrastructures and that was he not the same Buhari that drove away Maitatsine? So Nigerians are now asking that what is Boko haram and bandits that he (president) can't just clear off, but then we need to reflect those that are pulling him down."
"He said he fought against a similar situation in Kogi, adding that "this is why we are having the successes today. We will fix this country."
Download NAIJA NEWS app: