Lagos: 'Inconsequential Move' – APC Reacts To Defection Of Members To PDP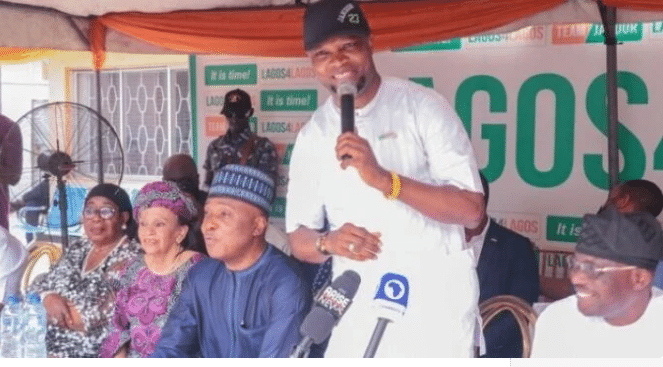 The Lagos state chapter of the All Progressives Congress (APC) has reacted to the defection of some of its members to the Peoples Democratic Party (PDP).
Naija News had reported that former President of the Nigerian Senate, Abubakar Bukola Saraki on Saturday welcomed an APC faction in Lagos under the aegis of the Lagos4Lagos into the PDP.
Olajide Adediran, popularly known as Jandor, led members of the Lagos4Lagos movement from the 20 local governments of the state to the PDP at an event in the state.
But in a swift reaction on Sunday, APC spokesman in Lagos, Seye Oladejo, said the defection of the faction is inconsequential and of no effect on the ruling party.
Oladejo stated that the PDP would still lose in Lagos despite the defection of the group, adding that the aggrieved members' defection shows their political naivety.
He said: "There is nothing that is going to happen that will change the fortune of the PDP. They have always lost, it is in their DNA. So, they will lose again.
"So, they are moving to nothing, we will meet at the polls. I can assure you they would not even win a single ward in the state.
"For them to think they can bring any special fortune that is unknown and alien to our state".
Oladejo submitted that the group has just formalised its membership of the opposition party and that the ruling party would not miss the group.
"They have always been in the opposition anyway. We have always believed that they were acting a script. There is a limit to the hypocrisy that is not sustainable.
"No one plays opposition within the ruling party and hope to sustain that. So, it is a good thing that they have finally moved on.
"We are happy that in some of their interviews, they promised to resurrect a dead party. I believe resurrection is left for Almighty God.
"It is good they are mixing and fraternising with the dead now, which is a good thing for them. For us, we are not going to miss them.
"Hopefully, someday, they will see the light and know that Lagos has always been a progressive state and remains one. They can return.
"So, if they want to come back in the future, why not? Our doors remain permanently open to those who are ready to repent and see the light," he said.
Download NAIJA NEWS app: