Presidency Gives Update On What Buhari Is Doing With Electoral Amendment Bill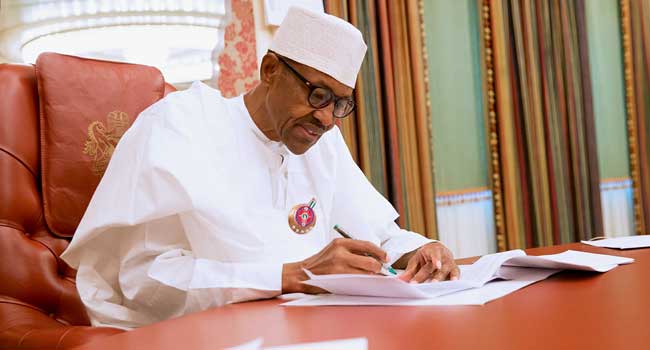 The presidency has debunked rumours that President Muhammadu Buhari has decided not to sign the amended electoral bill sent to him by the National Assembly into law.
Buhari's Senior Special Assistant on Media and Publicity, Mallam Garba Shehu said the President is still consulting stakeholders on the matter before taking a final deision.
While assuring that there is no cause for concern on the matter, Shehu called to attention that the President has until the 19th of December to take any action or decline the bill.
Naija News recalls two major amendments been proposed in the bill by the National Assembly is the compulsory use of direct primaries by political parties to choose candidates for election as well as the provision to allow the Independent National Electoral Commission (INEC) to transmit election results electronically or decide otherwise.
Stakeholders are eagerly awaiting the decision of the president on the matter with one side urging him to sign the bill without further delay and others saying he should deny assent.
But the presidential media aide in response to an inquiry by The Nation on the matter urged patience, noting that Buhari is consulting widely and is yet to reject the bill.
"There is no truth in the story that President Muhammadu Buhari has declined signature on the bill," Shehu said.
Adding that "He has not taken a decision yet. The President is widely consulting.
"I believe there is nothing to worry about. There is still time. I believe he still has up to December 19th or thereabouts."
Meanwhile, Rivers State Governor, Nyesom Wike has said the body signs from President Muhammadu Buhari have shown that he won't assent to the electoral amendment bill transmitted to him recently by the National Assembly.
Wike who expressed confidence that the President won't sign the bill said Buhari will eventually come up with an excuse to reject the bill.
The Rivers State Governor added further that the bill is dead on arrival alleging that even the stakeholders within the ruling All Progressives Congress (APC) don't want the President to assent the bill as it will negatively affect their interests.
Download NAIJA NEWS app: