'You're Wrong' – Falana Knocks Keyamo Over Comments On Lagos #EndSARS Panel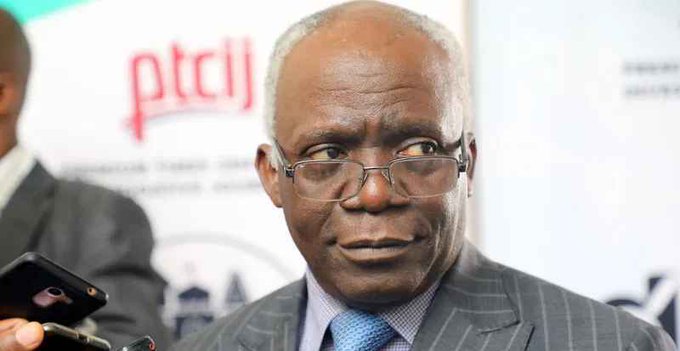 Senior Advocate of Nigeria, Femi Falana, has slammed the Minister of State for Labour and Employment, Festus Keyamo, for casting aspersion on the State Judicial Panels of Inquiry on Restitution for Victims of SARS Related Abuses and other matters.
Naija News had earlier reported that the minister, on Sunday, stated that the panel set up by the Lagos State Government was illegal.
Keyamo claimed that the panels lack the legal power to investigate men of the Nigerian Police and the Army, adding that the two agencies are answerable to the Federal Government and not the state governments.
Speaking at an event, Falana stated that state governors have the constitutional and legal powers to set up a judicial panel of inquiry on any issue.
The human rights lawyer said Keyamo was wrong for saying that the Lagos panel is illegal because it has investigated federal officers.
Speaking further, Falana said Keyamo was not talking law but emotions when he made those statements, asking Nigerians not to be confused by the minister's claims.
He said: "Nigeria is governed by law. The Lagos State government sets up a judicial inquiry, it was not an inquiry set up on the directive of the federal government. When you say that, you insult the state, which is a sovereign within the federation.
"When someone now says that the panel in Lagos is illegal because it has investigated federal officers, with profound respect, he is not talking law. That is not the law.
"The Lagos panel relied solely on documentary evidence from the officials of the government. In fact, exhibit A, the first document tendered before the panel was produced by the LCC which captured the events of October 20, 2020, but the camera was later disabled.
"A few weeks ago, President Buhari told the US Secretary of State that he is waiting for the reports from the state governors and he will implement them, but our friend said on Sunday on Television that he is speaking on his behalf and not as a minister. You cannot draw a dichotomy between your private views and the views of the government that you are part of."
Download NAIJA NEWS app: