FG Bans 91 Private Jets Belonging To Pastors, Business Moguls, Others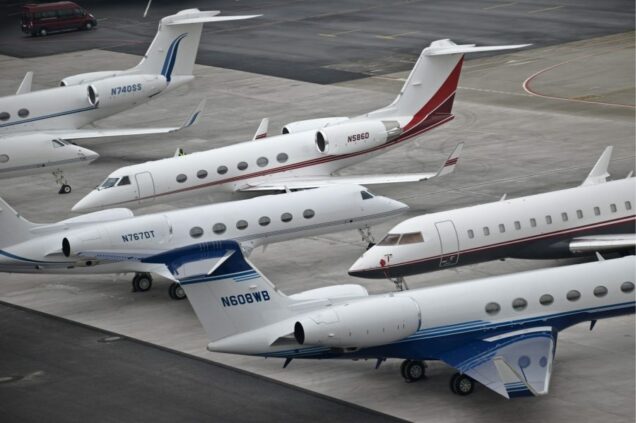 The Federal Government has banned 91 private jets belonging to pastors, oil moguls, bank executives and businessmen over alleged failure to pay import duties.
Naija News reports that the Comptroller-General of the Nigeria Customs Service, Col Hameed Ali, (retd.), gave the directive in a letter dated November 2, 2021.
In the letter which was addressed to the Nigerian Civil Aviation Authority (NCAA), the Federal Airports Authority of Nigeria (FAAN), and the Nigerian Airspace Management Agency (NAMA), the Customs boss asked the three agencies to stop the operations of the affected private jets for refusing to pay over N30bn import duties.
Ali also asked the three agencies to indefinitely deny the private jets administrative and operational flight clearances until they offset their debts.
He stated that the service decided to ground the operations of the affected private jets after it was discovered that the import duties on the carriers have not been paid since 2006.
However, some of the private jet owners protested the Customs directive arguing they cannot pay import duties on the planes because the jets are under lease payments.
Reacting, the NCS slammed the jet owners for allegedly fraudulently exporting them under questionable documentation processes and refusing to pay import duties in the past 10 years.
The letter reads: "The Federal Government in its drive for enhanced revenues has mandated the Nigeria Customs Service to immediately recover from defaulting private aircraft owners the required statutory import duties on their imported aircraft.
"You may wish to recall the verification exercise conducted by the NCS, initially scheduled for a 14 day period, but magnanimously extended over a 60-day period from 7th June through 6 August 2021, following a World Press Conference held on 31st May 2021. The outcome of the aforementioned verification exercise is a compilation of all private aircraft imported into the country without payment of statutory import duty.
"The Nigeria Custom Service, in line with its statutory functions, is empowered by Part 111 Sections 27, 35, 37, 45,46, 47, 52, 56,63 & 64; Part XI Sections 144, 145, 155, 160, 161& 164 and Part XII Sections 167, 168, 169, 173 & 174 of the Customs and Excise Management Act.
"In this regard, therefore, your full cooperation is being solicited to ensure the success of this initiative and that all such private aircraft owners or representatives are denied administrative and operational flight clearances indefinitely until an NCS issued Aircraft Clearance Certificate is procured and presented to your organisation as proof of compliance.
"For the avoidance of doubt, ALL aircraft operated in accordance with the Nigerian Civil Aviation Authority's regulation for the issuance of Permit for Non-Commercial Flight and those issued with Flight Operations Clearance Certificate and Maintenance Clearance Certificate accordingly are affected by this directive.
"Please find attached the list of all verified aircraft and indeed others of the Nigerian Civil Aviation Authority's register, which may not have come forward for your record and necessary action. Strict compliance with this directive is to be ensured. Please accept the assurances of my highest regards and esteem as always."
Download NAIJA NEWS app: