'Flimsy Excuses Of Jittery Minds' – Malami Denies Using EFCC To Victimize Obiano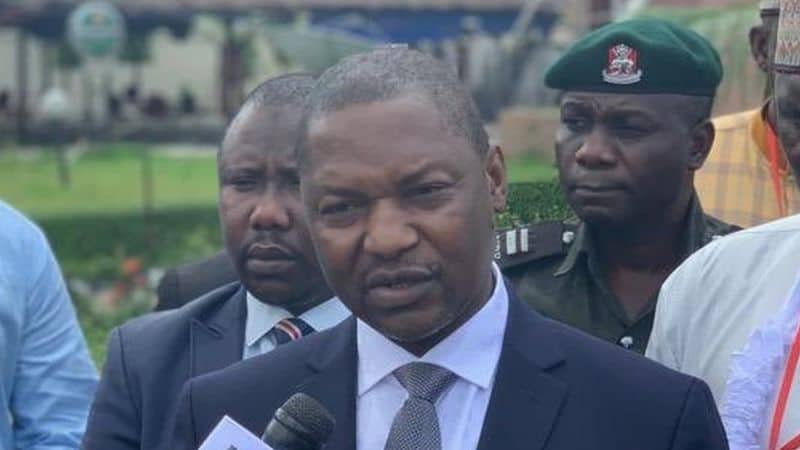 The Minister of Justice and Attorney-General of the Federation Abubakar Malami, has debunked allegations that he is seeking political vengeance against Anambra State Governor, Willie Obiano.
The Minister stated that contrary to the claims of the Anambra State government, he doesn't influence the activities of agencies and institutions under his Ministry.
He added that he discharges his constitutional duties without sentiments or political prejudice.
Malami made the submission in a reaction to the allegation by the Anambra State Commissioner for Information, Don Adinuba who accused him of using his office against Governor Obiano.
Specifically, Malami has been alleged to be the one pushing the Economic and Financial Crimes Commission (EFCC) to go after Obiano for political reasons.
Adinuba made the allegation on Thursday evening during a TV interview in which he accused Malami as being the individual sponsoring the EFCC against Malami as a form of political vengeance after it emerged that the EFCC had reportedly placed the Anambra State Governor, Willie Obiano on a watchlist, directing the Nigeria Immigration Service (NIS) to keep an eye on him ahead of the expiration of his tenure.
However, the Minister's media aide, Umar Gwandu has rubbished the claims by the Anambra Commissioner as a flimsy excuse coming from a jittery mind.
"It is important to state that the attorney-general of the federation and minister of justice neither interferes with nor dictates the operations of any of the federal government agencies/institutions that he statutorily supervises," Gwandu stated in a statement which came in response to an enquiry by The Cable on the matter.
"Such agencies have the mandate to discharge their responsibilities in compliance with the extant laws.
"To suggest that Abubakar Malami, SAN, in his personal or official capacity as attorney-general of the federation and minister of justice teleguides certain operations is tantamount to shadow chasing, flimsy excuses and concoctions of jittery minds.
"It is on the record that past and serving politically exposed persons, regardless of political inclination or party affiliation, are being invited by investigation agencies in order to bear their cross for infractions committed.
"Activities of the federal government are a pointer to the renewed vigour in the fight against corruption in all ramifications. This is done without fear or favour and devoid of any sentiment.
"The officers concerned should focus their energies and vocal dexterities in proving their innocence or blaming their actions, inactions, commissions or omissions and not the honourable attorney-general of the federation.
"It is a pity that we have such a people in the country that if they could not see the sun in the morning they will, without any justification or scientific inquiry, jump into the conclusion and claim that 'the attorney-general of the federation hid the sun' or 'Malami caused disappearance of the sun to elongate the night," he added.
Download NAIJA NEWS app: