Plan To Lift 100 Million Nigerians Out Of Poverty Still On Track – Malami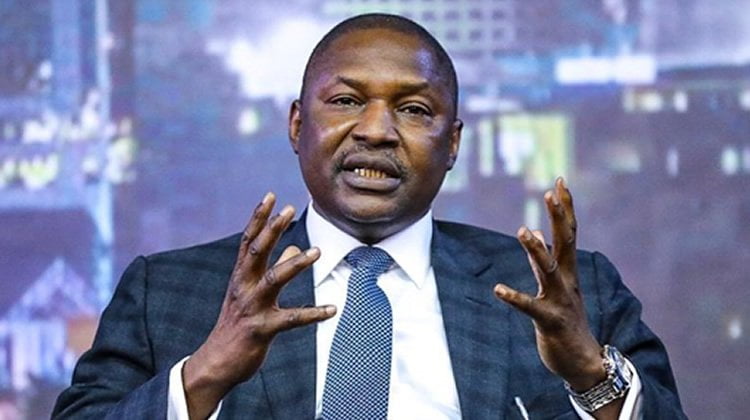 The plan to lift 100 million Nigerians out of poverty before 2023 is still on track, the Attorney-General of the Federation and Minister of Justice, Abubakar Malami (SAN), has said.
Malami made this known on Thursday during the commissioning of the 155km stretch of the Sokoto-Tambuwal-Jega–Koko-Birnin Yauri Road, Phase I & 2 in Koko, Kebbi State.
In a statement issued by his spokesman, Umar Jibril Gwandu, the minister stated that all inherited uncompleted projects would be completed before 2023.
Malami stated that these projects when completed would show Nigerians that the promise of change and next level delivery are real.
He stated that the road project was started by the Goodluck Jonathan administration on 13th December 2012, adding that the completion was proof that the current administration was committed to providing jobs.
Malami, therefore, advised road users to drive in accordance with the law as stipulated in the Highway.
"It is a manifestation of our resolve to provide more vista of job opportunities thereby enhancing productive engagement of our teaming population and economic value addition in line with the Federal Government policy to lift 100 million Nigerians out of poverty. It is a promise of change made and next level delivery established," he said.
"With this development, I can confidently say that as we enter the final lap of the tenure of the President Muhammadu Buhari-led Administration, we are entering a season of completion and delivery of projects including those inherited from the past administration before we come on board.
"Now that we have this new and well-built road, we have duties to ourselves and to other road users. One of those duties is to ensure that we drive in accordance with the law as stipulated in the Highway," Malami added.
Download NAIJA NEWS app: