Court Adjourns Nnamdi Kanu's Case, Issues Restrain To Police, Others On Court Premises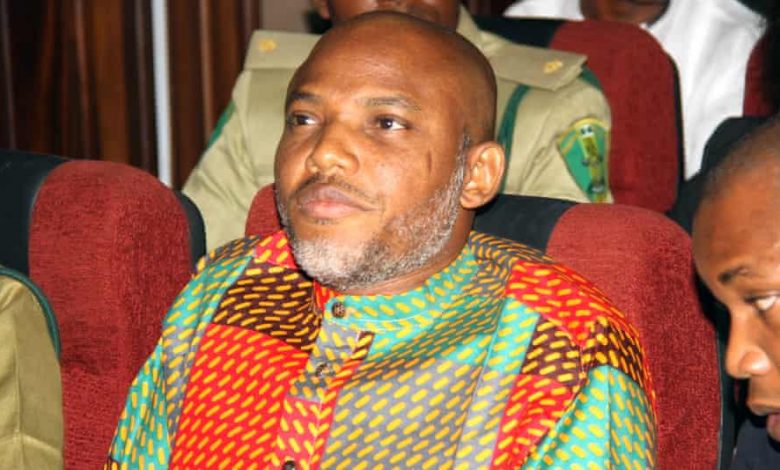 The case against the detained leader of the Indigenous People of Biafra (IPOB), Nnamdi Kanu, has been adjourned to December 10, 2021.
Presiding today at the Abia State High Court, the court judge, Justice Benson Anya, barred security agencies from arresting anybody who appear at the court to witness Kanu's proceedings.
Naija News understands that Justice Anya also issued an order restraining security agencies from crowding the court premises whenever the case of the embattled Biafran agitator is heard before the court.
Justice Anya is understood to have issued the directive after witnessing the presence of over 100 security operatives who surrounded the premises of Abia on Friday.
The court had resumed hearing of Kanu's human rights lawsuit against the Nigerian government and seven others, which was filed by his special counsel, Aloy Ejimakor.
Ejimakor had mentioned at the court that the suit filed on 7th September was targeted at challenging the pro-Biafra separatist agitator's abduction in Kenya and his extraordinary rendition to Nigeria.
Other legal representatives who were reportedly present at the court alongside Ejimakor include Barristers Patrick Agazie and Max Ozoaka of Alaigbo Development Foundation.
"The security agents were out in strength and blocked all the entry points to the Court house, allowing only court workers, judges, lawyers and a few media people to get through. This reporter is one of the few lucky media people allowed to pass through, as many others were turned away," a statement by Ejimakor which was made available to newsmen today noted.
It added: "It will be recalled that at the two previous hearings of the matter, there was also a sizable number of security agents deployed at the perimeters and premises of the Court, including a large contingent of soldiers.
"In making the order, the judge noted that he saw no necessity for the deployment of such a high number of security agents to the court, stating that in the future if security agents saw the need to deploy to the court, they should apply to the court for permission to do that."
The case was also adjourned by the court to December 10.
"The matter was adjourned to 10th December for the adoption of processes and a hearing on the substantive application seeking Kanu's release from detention and his repatriation to Britain. The early date was insisted on by Kanu's lawyer, Barrister Aloy Ejimakor, who argued that fundamental rights are special cases that must be concluded on time, especially in this instance where Kanu has been in detention since June this year," the statement added.