'Bad For Fighting Spirit' – Army Says ISWAP Fighters Plotting To Kill More Military Commanders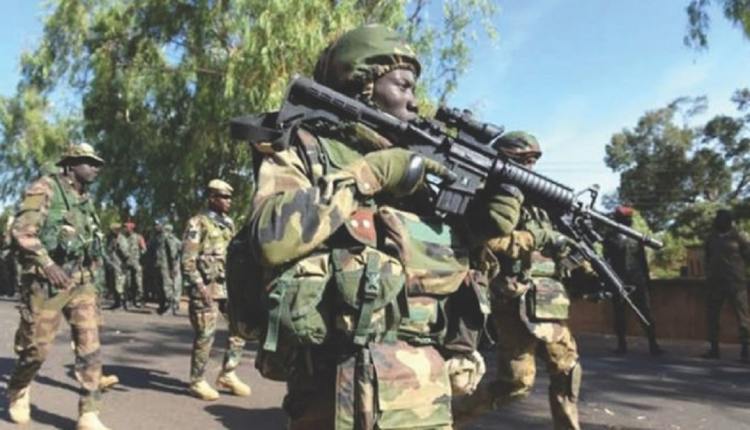 The Nigerian Army has revealed that fighters of the Islamic State West Africa Province (ISWAP) are planning to kill more military commanding officers.
Naija News reports that ISWAP fighters had during the weekend killed Brig Gen Dzarma Zirkusu and three other soldiers in an ambush while they were on their way to reinforce troops at Askira Uba LGA in Borno.
Until his death, General Zirkusu was the commander of the 28 Task Force in Chibok.
The Nigerian Army, in a signal seen by Sahara Reporters on Monday, have warned troops against letting their commanders get killed.
Stating the effect of such incident, the army said the death of a commander is bad for fighting spirit as it would leave troops without direction.
The army authorities wanted that a battle could have been "lost if a commander is killed."
The signal read in full, "At about 130915A Nov 21, following attack on troops of115 Task Force Battalion Askira Uba by ISWAP terrorists, troops of 25 Brigade led by Brigade Commander, Brig Gen MF Babayo (N/10211) in conjunction with troops of 28TF Brigade carried out reinforcement to Askira. While on pursuit of the terrorist, troops made contact with the terrorist at Leho Village (N10°42'10.22″ E12°50'47.76″) in Askira LGA.
"During the contact, own MRAP conveying the Brigade Commander deliberately rammed ISWAPs MRAP which led to destruction of ISWAPs MRAP while own MRAP engulfed in fire. However, the Brigade Commander and the MRAP crew were able to get out of the MRAP but the commander had serious chest injury due to the head on collision. Casualties on troops are one soldier and one CJTF WIA while equipment casualties are one x Phantom MRAP, 3 x AA Guns (2 DAMAGED), one x AK47 rifle, 2 x AK 47 Magazine and 60 x 7.62mm (SPECIAL) rounds. Enemy casualties are over 50 terrorists elements (including their commander) were killed. Enemies one x MRAP and 5 x GTs destroyed while tps recovered 3 x GTs, 2 x AA guns, 5 x AK47 rifles, one x HK MG and one x HK MG links were recovered.
"At about 131745A Nov 21, the WIA were evacuated to 7 DMSH for further medical Management. Reinforcement team returned to HQ 25TF Bde Damboa at about 2000hours same day. Please find pictures attached. One of the major elements in battle is the Commander. Commanders of 25TF and 28TF Brigades put up amazing direction of command leading troops into battle.
"Unfortunately, the 25TF Brigade Commander lost his life in the process. It is quite heroic but not too good that commanders are found in the fore front to lead battles. If the command should fall, then troops have not direction or fighting spirit. It is one of the rules of warfare that the battle could have been lost if a commander is killed; hence soldiers could retreat.
"It should be note that ISWAP intends to follow this suit by targeting commanders. Commanders are now eager to motivate and inspire soldiers where moral is low. It is only significant that troops be always encouraged to show professionalism in the face of existing threats to fight without recourse the enemy of the State. Such motivational aspects of military trade craft should be encouraged as well as discipline while the Commanders highly directs and request appropriate from ASA need items and CAS to support the battle. Kindly forwarded for your information."