AGF Malami Insists He Has No Hand In The Illegal Siege On Justice Mary Odili's Home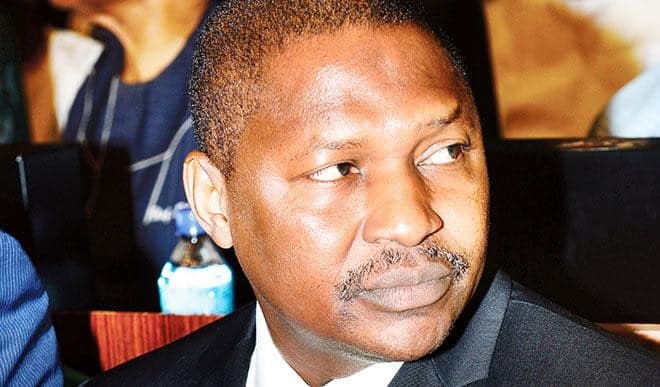 Attorney General of the Federation and Minister of Justice, Mr Abubakar Malami, SAN, has restated his innocence on the illegal siege on the home of Supreme Court judge, Justice Mary Odili.
Naija News recalls that a fake police officer, Lawrence Ajodo who was among 14 persons paraded by the Police over the siege to the Abuja residence of Justice Odili had claimed to have been a consultant to the AGF.
Ajodo, who allegedly led the team that invaded Justice Odili's home, had during interrogation, confessed to be a consultant to the AGF but insisted that he was not sent on the raid by the AGF.
Speaking on Sunday on Channels Television, Malami denied ever meeting Ajodo or engaging him in any job for the ministry.
Asked if his office hire consultants to help recover properties, Malami said: 'The office of the AGF engages people officially, particularly lawyers. But the issue here is about official engagement. If Lawrence has evidence of being engaged by the AGF office, he should bring the proof. There is no way someone can be engaged informally as a consultant. So he should provide the public with the letter of engagement by the ministry.
"It is on account of this that I engaged the office of the Inspector-General of Police to conduct an investigation into the matter and look at it from the point of criminality and the police has come up with a report. I reiterate again that I don't know this man and I have never met him. The IGP has concluded his investigation."
AGF Malami also denied reports that Ajojo had ever being on the payroll of the Ministry of Justice under his administration.
He said: "Government business is a formal business, so if there is any formal engagement of anyone for business, it must be formalized. I can tell you that nothing like Lawrence Ojodo exists in our system or any agency of government that I know."
He however admitted that there was a unit in his office in charge of asset recovery but Ajojo was not part of such unit.
"There is an asset recovery unit in my office. Government business is regulated through processes and procedure, so they do not operate separately from other departments or against government laid down procedure. The man said he was engaged by the AGF. There are 36 AGFs in the country, so he should say which of the AGF engaged him," Malami said.
Download NAIJA NEWS app: