We Can't Suddenly Quit Open Grazing – Fulani Herdsmen Tell FG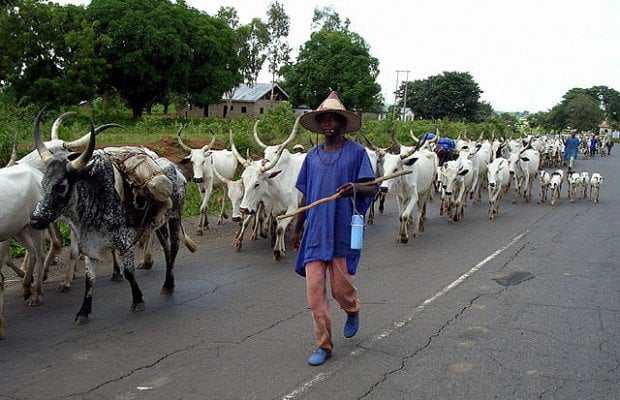 Fulani herdsmen under the umbrella of the Miyetti Allah Kautal Hore have said they can not suddenly quit open grazing except the government makes some provisions available for them.
The group said though it is in their will to put an end to open grazing in Nigeria, it however demands that the government should meet its financial and logistics needs first.
Naija News understands that Miyetti Allah Kautal Hore brand Ambassador, Temitope Ajayi, said this alongside officials of the association while on a courtesy visit to the Minister of Women Affairs, Pauline Tallen, in Abuja.
According to the group, it will be difficult for them to quit the age-long practice since there is no alternative way yet to feed their cattle.
The herdsmen swore to take off the streets and farmlands their cattle as soon as ranches that are being proposed by some government officials, particularly southern state governors, are provided.
In defence of the herdsmen, Ajayi added there was a need to re-orientate and change the mindset and perceptions of the Fulani herders so as to end outdated practices of open grazing.
She said: "There is a need to re-orientate and change the mindset and perceptions of the Fulani herders, farmers and other entities in Nigeria, modernize cattle breeding and end outdated practices of open grazing and other nomadic activities, and bring them up to international best practice."
Meanwhile, controversial Islamic cleric, Sheik Ahmad Gumi has blamed two prominent separatist leaders for allegedly capitalizing on the Fulani debacle in the south to call for the break up of Nigeria, Naija News reports.
Gumi in one of the series of videos posted on his Facebook page said Yoruba Nation agitator, Sunday Igbhoho and the leader of the Indigenous People of Biafra (IPOB), Nnamdi Kanu have both played on the Fulani herdsmen clashes with farmers in the south to fuel their claims on the need for Nigeria to break up.
Naija News understands that the cleric made an initial submission at a recent online forum he participated in with the theme: "Islam and the Special Role of Religious Leaders in Peacemaking in the Banditry Crisis in Northwest Nigeria."
He said the two separatist leaders were only whipping up sentiments to draw sympathizers for their own school of thought.