Buhari Has No Choice Than To Negotiate With Nnamdi Kanu, Sunday Igboho – Gani Adams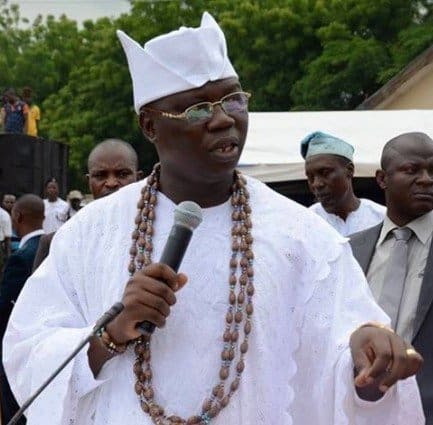 The Aare onakakanfo of Yorubaland, Gani Adams, says that the Muhammadu Buhari government has no choice but to proffer a political solution to the various secessionist groups in the country.
Adams advised the Federal Government to negotiate with both the leader of Yoruba Nations agitators, Sunday Igboho and the arrowhead of Biafra agitators, Nnamdi Kanu.
He made this known on Friday while reacting to a statement credited to the Attorney-General of the Federation and Minister of Justice, Abubakar Malami (SAN).
Malami, while speaking to newsmen on Wednesday, stated that the Muhammadu Buhari-led government may be willing to consider all kinds of solutions, including political ones, in order to resolve the crisis surrounding agitations.
Asked whether the Federal Government was not disposed to a political solution to issues concerning Nnamdi Kanu and Sunday Adeyemo, also known as Igboho, Malami stated that the government would not mind taking a shot at it.
In an interview with The PUNCH, Adams said that Sunday Igboho and Nnamdi Kanu have not committed any crime by agitating for secession from the Nigerian State.
The Yoruba chief pointed that the two agitators have massive followers who believe in the cause and would go extra mile for them.
He, however, said that restructuring and autonomy for the various regions in the country remain the best methods to solve the various secessionist agitations in the country.
Adams urged the federal government to allow the federating units to develop at their pace so that more agitation won't rise.
He said, "The Federal Government have no choice than to proffer political solution to the two cases – Igboho and Kanu – because whether the Federal Government believe in their cause or not, their followers believe in what they are doing.
"In the South-East, the people already have the mindset that they are being shortchanged and marginalised in the political system. What they are agitating for is either to have their liberation or get a certain autonomy.
"And for Igboho, I haven't seen the offence Igboho committed than warranted criminal charges. He was pressing his demands peacefully and if the government wants to move this country forward, if the Federal Government does not want agitations to breed in other regions, it should resolve the two cases politically, it is the best option to douse tension.
"The government should not only resolve the issue of Igboho and Kanu but to listen to the cries of the people. Even though the government does not allow secession, it should allow the federating units to develop at their pace so that more agitation won't rise because, without this, more agitations may arise in the country because people are hungry and angry."
Download NAIJA NEWS app: