Nigeria's Incessant Building Collapses – Causes, Effect And Solutions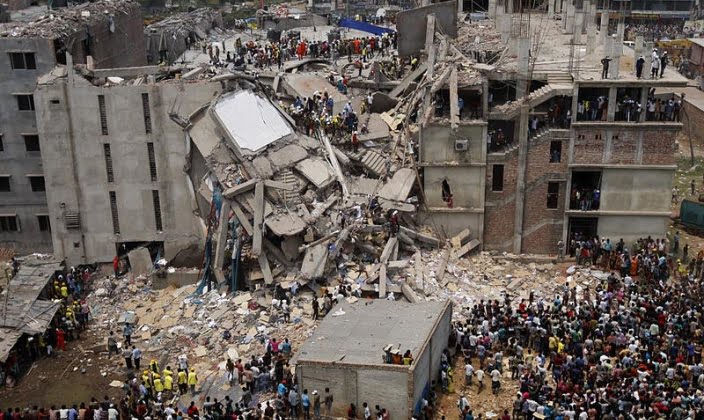 By Olubenga Ige and Victoria Chukwuani
The incidence of building collapse in Nigeria has become so alarming and increasing with the most recent publicized one being the collapse of a high-rise block of luxury flats under construction in the neighbourhood of Ikoyi in Lagos which resulted in the death of 42 people (and counting) with several others trapped underneath.
Building collapses many times, come with the loss of lives and billions of naira in investment which could have been avoided in some cases.
Constructing a building in Nigeria does not come cheap, it requires huge resources to complete such a project.
Erecting buildings of any kind is a very tasking and detail-oriented process that requires patience, hard work and diligence. Constructing different buildings come with specifications and permits but the general order of operations remain the same.
When constructing any building in Nigeria or any part of the world, there are some important steps that must be taken to ensure the safety of construction workers, employees, and occupants of the building. Some of these steps and how vital they are to the prevention of building collapse will be evaluated in this article.
Erecting a building comes in different stages and there are certain things expected to be done at each stage. The first stage of construction all over the world is to create a plan, a design and layouts of the building. After the design and layouts have been created, the next thing is to obtain the building permits from the relevant government agency.
Other stages include clearing and excavating the land upon which you want to build, pouring of the foundation, completing the framing, completing roughly electrical and plumbing work, installing the roof, addressing heating and cooling needs, completing interior needs, installing fixtures and the last stage of construction involves putting the finishing touches on the building.
With the above-detailed stages of construction, cases of incessant building collapse in Nigeria have continued to be a source of worry and concern to experts and other stakeholders in the building industry. The incidence of building collapse in Nigeria has a long-term effect on its victims. Such effects include loss of lives, loss of capital, jobs, investments, loss of trust etc.
It is very sad to note that incidences of building collapse in Nigeria are easily swept under the carpet and not much is usually done to bring perpetrators to book. Most incidences of buildings collapse in Nigeria have not been seen to a logical conclusion and no proper scientific probe has revealed the cause of the collapse in order to avoid any future occurrence.
Causes of building collapse in Nigeria
Building collapse in Nigeria has become worrisome compared to other parts of the world and this has raised some vital questions on the competency of builders in the West African nation. A building is supposed to fulfil its primary function of safety and comfortability and not that of death.
According to experts, building collapse is majorly caused by either of the two main factors: man-made and natural factors. In Nigeria, the man-made factors are so prominent that they have been responsible for major building collapses. These factors include corruption, hasty construction, use of unskilled labourers, design errors, ageing, substandard building materials etc. While natural factors which include earthquakes, floods and landslides are also responsible for building collapse in Nigeria and the rest of the world.
According to building professionals, most building collapses occur during the construction stage as a result of errors made during the building process. These errors may include not meeting the design performance, inadequate use of building materials and other mistakes.
In an interview with Naija News, the Nigerian Institution of Structural Engineers (NIStructE), Dr. Kehinde Osifala, said the frequent cases of buildings collapse in Nigeria can be prevented if all the professionals involved in the building process are men and women of integrity. He stated that with the number of building professionals in the country, the issues of building collapse should have been a thing of the past, stating that NIStructE has been advocating across the country to curb the menace.
Osifala pointed out that major causes of building collapse are man-made and these causes include poor building plan, use of substandard materials, use of unskilled builders to construct structures and many more.
He, however, asked the government to prosecute anyone found culpable in structural failures. Osifala also lamented the preference for expatriates to local skills, saying Nigerians engineers could stand shoulder to shoulder with their counterparts anywhere.
– Use of Substandard Materials: Building materials are one of the major factors that determine whether a building would collapse or stand. It is said that 10-25% of buildings that collapse in Nigeria are a result of the use of poor quality building materials. Such building materials include sand, blocks, cement, steel, concrete, steel, planks, wood and granite, and when these materials are inferior, building collapse is inevitable. The use of substandard materials play a major contributor to structural failures of buildings.
– Non-Adherence to approved building plans: Another cause of building collapse in Nigeria is the non-adherence to building plans approved by the Federal Government. Non-conformity comes in illegal editing of approved designs and failure of a contractor not to use in-site concrete instead of a pre-cast method.
– Illegal conversion and additions to existing structures: Converting an existing structure to another one without following the due process can definitely lead to structural failure or building collapse. The addition of extra floors beyond the original design will have a resultant effect on the foundation, leading to collapse. For example, a storey building changing to 2-storey will surely give in due to the load imposed on the foundation.
– Engagement of ill-equipped, incompetent contractors: Awarding building contracts to unskilled contractors is a normal practice in Nigeria. These incompetent contractors do not follow the normal contract procedures which result in shoddy performance and then structural failure. These contractors are said to be appendages of businessmen and politicians in the country.
– Engagement of unskilled labourers and unregistered professionals: Employing unskilled labourers and unregistered professionals in a building project is a source of concern to experts in the construction sector. Also, companies use unqualified staff to monitor projects in order to save costs and this may lead to covering up structural deficiencies. The end result of this anomaly is that the unqualified staff would fail to detect fraudulent practices of smart contractors.
– Lack of proper supervision, inspection and monitoring of construction works: This is one of the causes of building collapse in Nigeria. Lack of proper supervision and negligence by government agencies and building professionals often lead to structural failure.
At this juncture, the article would be looking at a list of major building collapses that have been recorded over the past 15 years in the country.
In 2006, 22 March, the Nigerian Industrial Development Bank building caved in after it was struck by a thunderstorm during heavy winds. Three months later on the same year, July 18, a three-year-old, four-storey block of flats collapsed in Lagos, which resulted in the death of at least 25 people, and lastly, in November of that same year, an unfinished, three-story building under construction collapsed, leaving two construction workers reportedly dead.
In 2014, on September 12 to be precise, a guesthouse within the premises of the Synagogue Church Of All Nations (SCOAN) in the Ikotun-Egbe area of Lagos State collapsed leaving 115 people were reported killed of which 84 were South Africans.
In 2016, two incidents of building collapse were reported – one in Nigeria's largest commercial city and another in the Southern part of the country, a five-story building collapsed while under construction in Lekki District, Lagos on 8th March leaving at least 34 people killed while another 13 other people were pulled from the collapsed building alive in a rescue operation that ended late on 10 March.
While in the same year, another building collapsed on the 10th of December after the roof of the Reigners Bible Church International, an evangelical congregation, collapsed in Uyo, a city in Akwa Ibom State, Nigeria, during the ordination of the local bishop. At least 23 were said to have died, with other reports stating numbers as high as 160.
In 2019, a three-story building used for a primary school in the Ita Faaji area of Lagos, Nigeria suffered a structural collapse, killing 20 people and leaving over 40 trapped. Akinwunmi Ambode, who was the Governor of Lagos State as at then said the primary school was illegally occupying the building as the building is registered as a residential building.
In 2020, three persons died, while nine were injured when a three-storey building collapsed on July 11, on Freeman Street, Lagos Island. Barely ten months later, a five-year-old child died when a building came down at No. 19 Church Street, off Adeniji Adele Street, Lagos Island, in July 8th of 2021.
Lastly, on November 1st, 2021, which is the latest, has so far seen at least 42 people pronounced dead after a 21-storey building on Gerrard Road, Ikoyi, crumbled on Monday afternoon.
According to reports, the former consultant of the building Prowess Engineering Limited raised some concerns about the structure plan of the building. However it seemed that the consultant's suggestion was not followed, the firm withdrew its service and requested that its trademark be removed from the building.
An extended compilation of collapsed buildings in Nigeria from 2000–2016 carried out by a lecturer at Covenant University, Ota, Ogun State, Gideon Bamigboye, showed the causes of building collapse in Nigeria where building materials played some significant role.
Also, some reported cases of collapsed buildings in Nigeria for a period of 10 years (2009-2019) were investigated by Odeyemi Samson, Rasheed Abdulwahab and Zainab Giwa of the Kwara State University, Malete and the table below shows the outcome of the probe.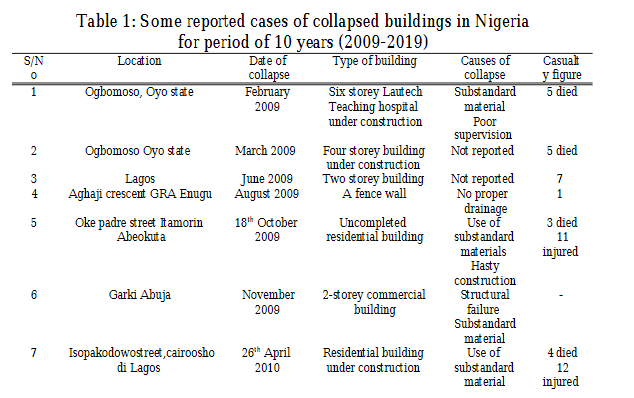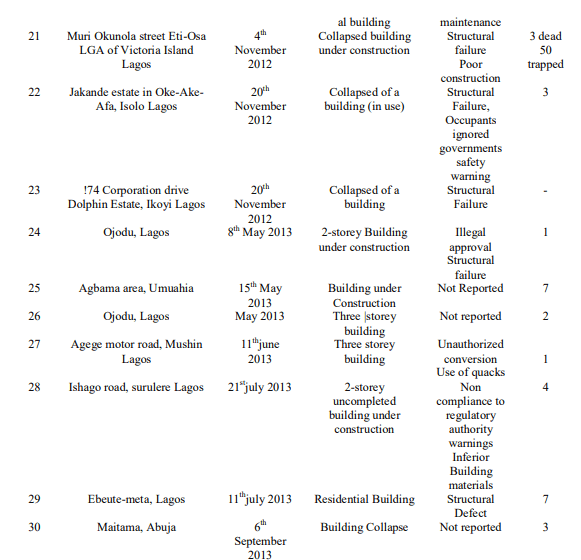 Effects of building collapse in Nigeria
Loss of investment, deaths and injuries sustained in building collapse make one appreciate a well-built building. The unnecessary loss of lives in structural failure can be prevented if all the causes of this menace stated above are avoided. During a building collapse, experts in the industry know that such a disaster comes with huge effects on the family of those that died and survivors of the sad incident.
Some of the consequences of building collapse all over the world are usually economic and social which directly impacts the social-economic development of the location the disaster happened. These effects include deaths, long-lasting injuries, trauma, shock, loss of properties, financial ruins, loss of trust and dignity among others. To measure the effects of a building collapse on any victim is extremely difficult due to the emotional load it carries.
The number of deaths recorded in a structural failure increases the mortality rate in the country and reduces the safety and life expectancy of the world population. Therefore, all hands must be on deck to reduce the frequent cases of building collapse in Nigeria and across the world.
Solutions to building collapse building in Nigeria
In order to prevent the future occurrence of building collapse in Nigeria, the following solutions should be strictly adhered to by all stakeholders involved in the building business.
All construction activities should be properly planned and monitored by regulatory bodies to ensure that all buildings are constructed according to design, specifications and planning regulations.
Contractors, builders, site engineers and other professionals in the building industry should always be of a good standard n accordance with standard practice procedures laid down all over the world.
Government agencies should enforce control of building works according to the laws guiding building construction in Nigeria.
Frequent public awareness campaign through the media is necessary to sensitize the public on engaging the services of professional builders.
Engaging skilled labourers and professional builders at any stage of the building process removes the possibility of putting the building in danger.
There should be a proper assessment of the environment in which a building would be constructed by the government and other environmental tests should be made compulsory for all buildings.
All building plans tendered by any developer for approval must comply with Nigeria's new building code and local bye-laws and regulations.
Standard organization of Nigeria, (SON) should monitor the quality of building materials such as steel, block, iron sheet, wood, sand, granite, iron rod, used on the site.
To avoid the incessant collapse of building in the country, the National Assembly must quickly pass the bill on National Building Code for quick assent by the President.