Despite Increase In Gas Price, Buhari Says Nigeria Has Made Huge Investment In The Sector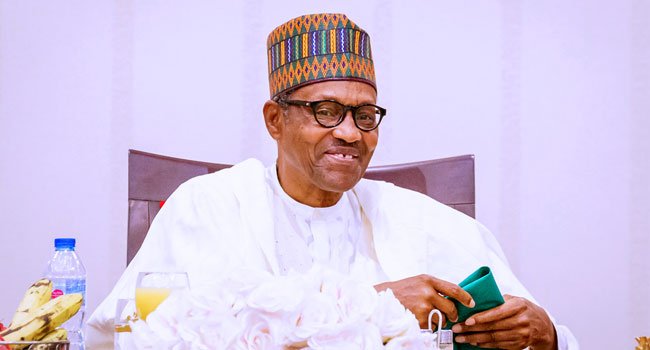 President Muhammadu Buhari, on Thursday in Paris, France, assured investors that investment in gas remains a top priority for Nigeria.
Naija News reports that the president stated that investment are needed in the sector considering the huge benefits in terms of returns and utility.
Receiving the Chief Executive Officer of Total, Patrick Pouyanne, President Buhari noted that Nigeria had made huge investments in gas.
Buhari stated that Nigeria will continue to create enabling opportunities for expansion, while looking at improving alternatives for renewable energy.
The President said Nigeria remains mindful of the target of zero emission by 2060, and had already started putting in place necessary natural structures that will ensure balance and safety for citizens and the global community.
In his remark, the Chief Executive Officer of Total said the French company had been greatly encouraged by the interest and support for investors in the country, and would continue to explore and pursue opportunities of mutual interest.
Pouyanne noted that the Nigeria National Petroleum Corporation (NNPC) led by Mele Kyari had provided a strong support base and partnership for growth.
He assured the President that investments in the gas sector will be sustained, with consideration for renewable energy.
Naija News reports that Nigerians are currently grappling with astronomical increase in the price of cooking gas.
Recall that Nigerian Association of Liquefied Petroleum Gas Marketers had said they will stop importing Liquefied Petroleum Gas, popularly called cooking gas because of inflation.
According to reports, the import price has increased by 240 per cent for every 12.5 kilogram, which means the price has increased from N3,000 to N10,200 between January and October 2021.
About 65 percent of Nigeria's cooking gas is imported, while domestic production is 35 per cent. Stopping gas transportation could increase the cost of gas used.
Bassey Essien, the Executive Secretary Nigerian Gas Importers Association, spoke on the fluctuating price of liquified gas. He said, "The NLNG supplies LPG to the terminals and these terminals sell to the marketers and at times in a day, the price can go up by about three times."
"Take for example, I was granting an interview on Saturday morning on this same issue and that morning some terminals were selling for N11.6m to N11.7m, but as I stepped out of the interview, it had increased to N12m."