2023 Presidency: Buhari Encourages Me – Yahaya Bello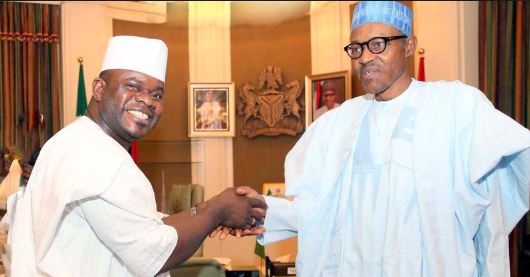 Governor Yahaya Bello of Kogi State has revealed how President Muhammadu Buhari always encourage him to give his best.
Governor Bello, while responding to questions on if President Buhari is aware of his presidential ambition, said his conversations with the president are limited to his position as a sitting governor.
He stressed that he only relate with the president based on 'development in Kogi'.
"I only relate with Mr President on development in Kogi; how I'm uniting the people, fixing the security architecture, managing resources, securing our borders that share boundaries with nine states, and providing succour and safety for FCT," Bello noted.
According to him, President Buhari has always expressed satisfaction with his leadership in Kogi State and has encouraged him to continue to do his best.
Speaking further on his presidential ambition, Governor Bello said though he is yet to publicly declare his interest to run for the most coveted political position, he can fix the nations political architecture if given the chance to do so in 2023.
Bello, however, denied the reports that he has stepped down from his presidential ambition for the All Progressive Congress (APC) national leader, Bola Ahmed Tinubu.
Bello said he wondered where the rumour emanated from even as he and the former governor of Lagos State are yet to publicly declare their interest.
Naija News reports that Governor Bello stated this when he appeared on Channels Television's Politics Today on Wednesday.
He maintained that he is ready to replicate his performance in Kogi at the national level come 2023 if offered the chance.