Govt Seeks Fresh Loan From Islamic Bank, Says It's For Big Projects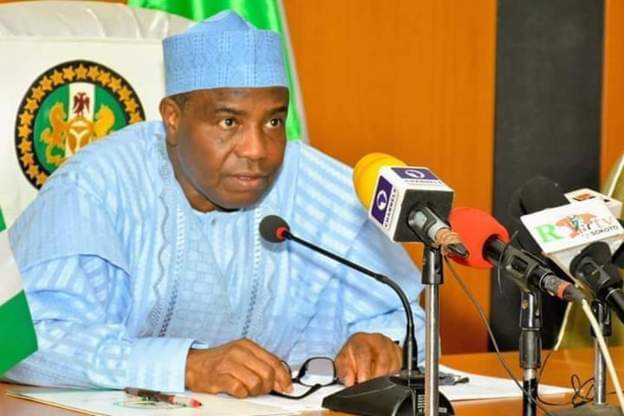 Sokoto State government is seeking fresh loans from the Islamic Development Bank which it says is to embark on capital projects.
Naija News understands that the State Governor, Aminu Tambuwal, confirmed this while countering critics from the All Progressives Congress, APC in the state over recent approval given by the State House of Assembly to borrow N28.7bn which they described as frivolous.
The Peoples Democratic Party (PDP) governor slammed the state's opposition party, insisting that the fund requested from the Islamic bank and the World Bank are meant to be used for the development of the state.
Tambuwal explained further that his administration only engages in borrowings to provide infrastructure to improve the lives of the people.
Naija News reports that the governor spoke during a stakeholders Town Hall meeting on the implementation of the 2021 budget as well as public inputs into the 2022 budget held in Sokoto on Tuesday.
"Someone, somewhere, sitting in the corner of his room said that Sokoto is badly indebted," Tambuwal said.
He added: "And, I don't know where he got his figures. He muddled everything and made it sound as if Sokoto is the worst state that is debt bedevilled.
"Even America is borrowing. They are borrowing till today. What is important is that do you really apply the money you borrowed to the development of your people or are you doing as some people are doing, they borrow money from China and neighbouring Ghana will borrow less amount of money for a better project; and then, here in Nigeria, we borrow higher money for lesser projects.
"We're not doing that in Sokoto state. We borrow and we implement. It is not every time that you go to the Assembly and seek approval, that you actually have a drawdown.
Insisting that his government is not borrowing for personal consumption, Tambuwal said some of the money said to be approved by the assembly are still pending.
"We are not borrowing for recurrent expenditure. We are borrowing for capital expenditure, which is allowed and health globally.
"And, you know that when you are not friendly with the government at the centre, there is a lot of politics in this issue about borrowing," Tambuwal said.