'I'll Not Interfere' – Uzodinma Reacts To Leadership Change In Imo House Of Assembly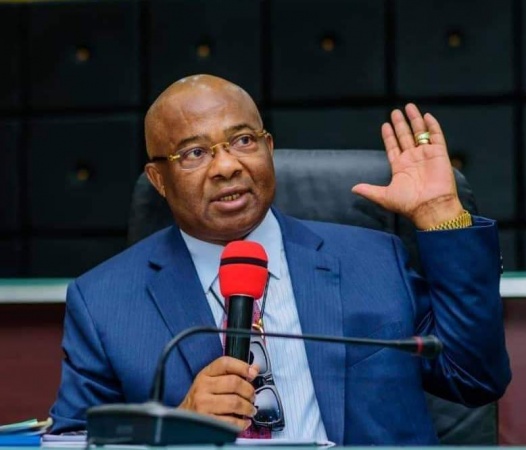 Governor Hope Uzodinma of Imo has told the state lawmakers that he would not interfere in their matters as a sign of respect between the activities of the legislative and executive arms of government.
Uzodinma made this known on Tuesday when he hosted some members of the state house of assembly following the recent change of the leadership in the house and all the attendant drama.
It is understood that the new Speaker of the State House of Assembly, Kennedy Ibeh, his Deputy, Amara Iwuanyanwu alongside the impeached Speaker, Paul Emeziem, and other lawmakers were all part of the delegation to the State Governor.
The Governor in his address to the lawmakers called on them all to forget about the past and work together to have a vibrant legislature that will bring development to the state and the people who elected them.
He added that no one should feel vanquished as all power belongs to God and he only chooses who occupies any position per time, noting that no single individual can occupy any position forever.
According to Uzodimma, "I will not interfere in their independence as an arm of government but rather partner with the lawmakers on how to serve Imo people better. I want to congratulate lawmakers for resolving to elect the Speaker of their choice peacefully without external interference, saying what happened that resulted in a peaceful and democratic election of the new Speaker is a victory for democracy.
"Imo State needs a united, functional, effective and efficient House of Assembly that will work towards giving the people the desired dividends of democracy."
"Bring down your eyes and do more work. Whoever will occupy any position is for a time. The opportunity is always one at a time. Therefore, bring pragmatism into your work and make the legislative business attractive and interesting. I want to remind the lawmakers that God is the ultimate decider of what anyone will be in life and, or what position one will occupy as a human being.
"All the arms of government must strive to contribute their quota to serve Imo State better, noting that "whether as an Executive, Legislature or Judiciary member if the government succeeds it is for all of us, and when it fails they have all failed. The new Assembly leadership should forgive the past and forge a new alliance that will make Imo State House of Assembly the best in Nigeria."