FG To Investigate Obasanjo, Jonathan Govt Over Fraudulent Contracts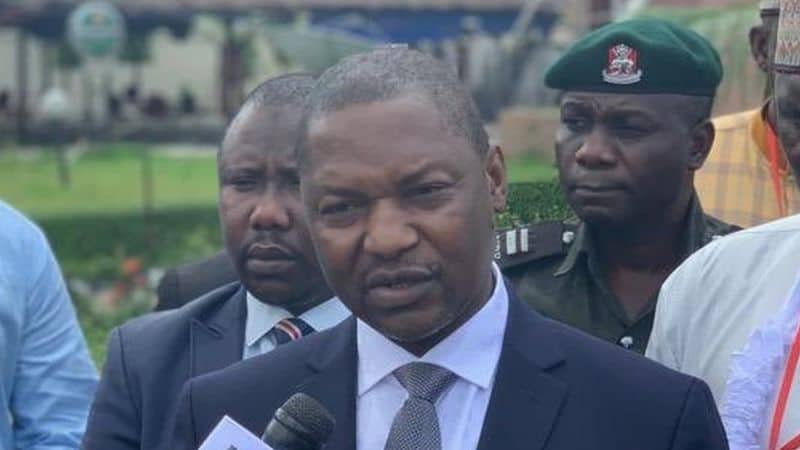 The Attorney-General of the Federation and Minister of Justice, Abubakar Malami, has revealed that fraudulent contracts awarded by previous governments would be investigated.
He made this known on Monday while appearing before the Senate Committee on Judiciary, Human Rights and Legal Matters to defend his ministry's 2022 budget estimates.
Malami noted that a Taskforce will be immediately constituted to probe contracts signed by PDP administrations that have the tendency to undermine the country's economy.
He pointed out that the task force will help investigate and review signed contracts in order not to have a repeat of the P&ID contract that almost ripped the country off.
He said, "The task force is intended to review the existing problematic contracts that have the capacity to undermine the economy.
"In the Office of the Attorney General, there exist two fundamental departments relating to the vetting of contracts.
"Solicitor Department is charged with vetting any government's contract and they have lived up to expectations over time.
"But the major problem with P&ID is that the contract was never ever allowed to pass through the Office of the Attorney General for vetting.
"So, on the account of that, they embedded in the contract clauses that are inimical to the interest of the nation.
"Because of the fact that there is a preliminary conspiracy among the key promoters of the contract, the contract was never allowed to pass through the Federal Executive Council, FEC for its approval, neither was it allowed to pass through the Federal Ministry of Justice for vetting.
"The existing structures are there, but they can only act in respect of contracts that are referred to the department.
"What I'm saying, in essence, is that the task force is poised at looking at it.
"In respect of P&ID, there were about nine contracts that were signed at the same time in breach of due processes and procedures."