I Did Not Jump From The 10th Floor – Man Who Escaped Death From Collapsed Ikoyi Building Speaks Up (Video)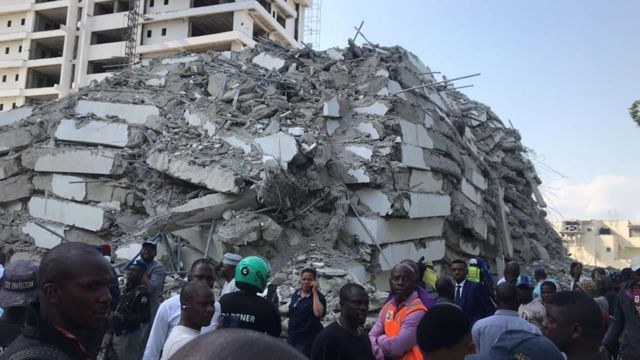 The young man who allegedly cheated death and jumped from the Ikoyi building as it was about to collapse has given an account of how it all happened.
In a video interview conducted by the Guardian, the 19-year-old man who identified himself as Williams Nwachukwu revealed that he was sleeping when he suddenly heard the building vibrating and realized it was about to collapse.
He also confirmed that he works and bath in the building.
Nwachukwu revealed that he came to Lagos in January and he is from Imo State.
When asked if he actually jumped from the 10th floor to save his life.
He stated that the information was false, revealing that he had jumped from the 4th floor and not the 10th floor.
Asked if the government had reached out after the incident, he said they had and also showed concern about his health.
Nwachukwu revealed that the Lagos State government told him they would reach out to him again to make sure he was alright.
When asked if his family were aware of his present predicament he replied in the affirmative, stating that they were aware and his elder brother would be coming to get him.
Speaking further, the survivor stated that he was done with secondary school but had no wish to further his education because of financial issues.
Nwachukwu revealed that he was being paid 3500 per day but after the incident he had no place to stay and no food to eat as his friends were the ones presently catering for his meals .
Watch the video below.
In other news, a British woman, Diarra Akua Eunice Brown, 28, who travelled to Turkey to have liposuction surgery has died two days after the operation took place.
According to the Daily Mail, Diarra went to Istanbul to have the surgery at a clinic in the suburb of Bahcelievler on October 22.
Although, it was reported that everything went perfectly fine, until Brown's fell 'suddenly ill' two days after the surgery while having her dressings changed and died within hours. Read more