It Did Not Last Three Minutes – Rapist Cries Out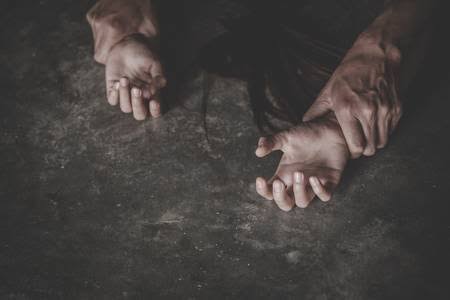 A rape suspect has revealed that he carried out his action because the victim humiliated him.
The suspect, identified as Ismaila Raimi, revealed that the victim had mocked him by saying he could not stand beside the yahoo boy she was dating. He revealed that he was vexed by the statement and decided to teach her a lesson.
He said he has been asking the girl out for over six months and he was giving her money during those period.
The suspect revealed that on the day the incident happened he asked his friend known as Sangokunle to escort him to her place and they both smoked marijuana before leaving.
He stated that he picked a stick to use as a fake gun, adding that When they got to her house they met a guy there and asked him to lie face down while they dragged the victim out and took turns in defiling her.
He said: "So on the faithful day, I asked my friend, Sangokunle, to escort me to her place.
"I have been telling him about her and how I like her. Before we left, we smoked Indian hemp.
"When we got there, I picked a stick and put it in a bag to use as a gun.
"We entered her room around 7:30p.m., met a guy there and asked him to lie flat on his face.
"We then dragged the girl out and I had sex with her. My friend too took his turn when I was done.
"I later went back to apologise to her and she promised she had forgiven me only to bring policemen to my house and arrest me."
Also giving an account of the incident, Sangokunle said: "I did not know what we were going to the lady's house to do, Ismaila just asked me to escort him to her place.
"We got there around 7:30p.m. at Kajola-Ile, Osogbo, met a guy and use a fake gun to harass him away.
"We took the girl to the backyard and had sex with her.
"Ismaila raped her first then. I told him I will also want to have my turn.
"It did not even later [sic] three minutes "