Majority Of Our Preachers Need To Be Born Again, Heaven Seems Far Away From Them – Adesina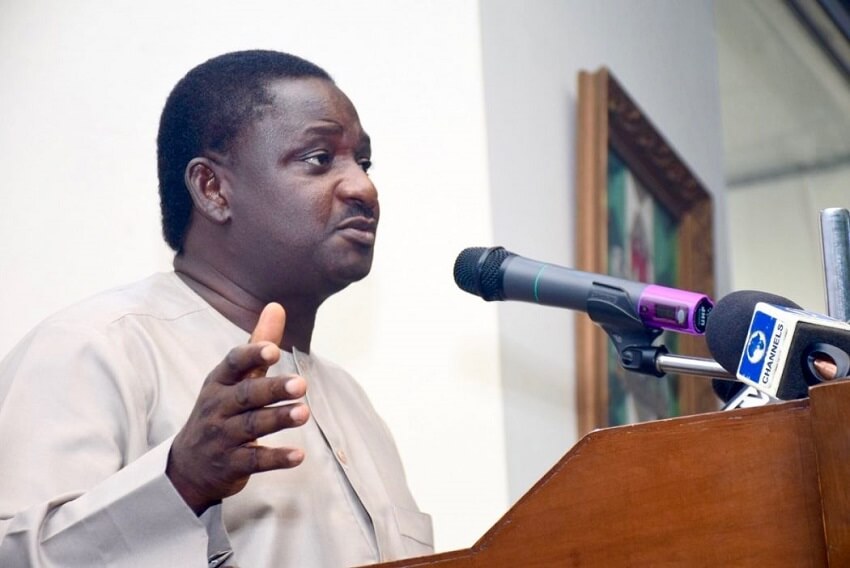 The special adviser to President Muhammadu Buhari on media and publicity, Femi Adesina has called on clergymen in the country to be more cautious about what they release from the pulpits.
The presidential media aide said based on his evaluation, many of them need to be born again, again, adding that without a change of heart, heaven seems to be far away from them.
Adesina who submitted that he's not been judgemental made his view known in an opinion article titled 'This Kumuyi is simply different', which he released on his Facebook page on Thursday evening.
Adesina said true believers don't speak without caution or restraint as what the Bible teaches is love for one's neighbour and to desist from harassing those in power.
He wrote: "Without sitting in judgment over anybody, I just believe that majority of our preachers need to be born again again. If what we hear them preach and teach is anything to go by, they need to be born again again. Otherwise, Heaven seems to be very far away. May God help us all. Amen."
Earlier, Naija News had reported that the presidential aide also alleged that some pastors simply hate the fact that a Fulani man is their president and therefore supported the recent #EndSARS protest in the country which resulted in the destruction of several private and public properties.
He said many of the pastors disappeared into thin air after things got out of hand during the protest which occurred in the year 2020.
"Pastor Kumuyi also says if you are a true believer in Christ, you wouldn't go on the rampage, destroying government property… But that was not what we saw in the country in October last year. The country was almost burned down under the subterfuge of EndSARS.
"And sadly, they were encouraged by pastors and preachers, who simply hate the fact that a Fulani man is their President. Many of them are on record as having encouraged the protesters, till things went ugly, turned awry. And the pastors vanished into the thin air. Not a word of caution or restraint as the cities were burning, and policemen were being killed, and even eaten up."
He added that "Irrespective of the titles they bear, I hear bishops, apostles, prophets, pastors, evangelists, cursing the government, and issuing doomsday notices. One even said publicly that the Buhari administration was over, before the 2019 elections. But the man won handsomely, and that preacher still struts and frets on the pulpit every week, not repenting in sackcloth and ashes."
He cited the General Superintendent of the Deeper Life Christian Ministry, Pastor Williams Kumuyi as an example other preachers should follow on how to relate with those in government and be a true Christian.
Download NAIJA NEWS app: