Presidential Aide Reveals Why Buhari Is Not Ready To Set Nnamdi Kanu Free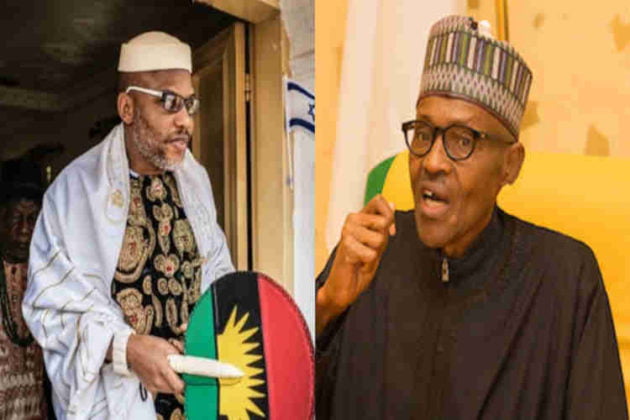 Lauretta Onochie, personal assistant To President Muhammadu Buhari on social media has revealed why the president is not considering setting Nnamdi Kanu free.
Onochie revealed on Sunday, October 31st that the IPOB leader would not be set free because of his alleged killing of Nigerians in the South-East.
This statement is coming after traditional rulers, civil societies and religious leaders called for the release of the activist.
Onochie in a Facebook post, mentioned names of some victims such as Chike Akinyuli, Lawrence Ezenwa, Ahmed Gulak and others who were dead allegedly because of Nnamdi Kanu.
She said: "Nigerians are waiting anxiously for justice to be done. Under President Muhammadu Buhari, a due process advocate, the monster will get a fair trial, a chance he didn't accord those he ordered their executions. The families of the slain are waiting for a fair and just closure to their nightmares.
"Well-meaning Ndigbo are of the opinion that their leadership, failed them by encouraging one of them who was clearly an unwell man. They did not speak up when they should. They are still hiding their heads in the sand.
"To call for his release, is to spit on the graves of Dr. Chike Akunyili, Dr. Lawrence Ezenwa, Dr. Ahmed Gulak, slain traditional rulers, students, virgins, and ordinary Nigerians of Igbo stock who lost their lives on the instructions of this lunatic, not forgetting the security operatives they murdered.
"President Muhammadu Buhari's government has done more in terms of infrastructural development for Ndigbo, than any other government in recent times. But it's not enough for them to align with his party.
"This is the time when stupidity will no longer help. At a market place, these monsters did not spare a thought for their own people who came to make a living, before engaging the might of the Federal Government in a gun battle; in a market. These people now wake up in the morning, go to a shop. Buy some biscuits and fuel. Make a recording of themselves, bragging."