COVID-19: Criminals Disguising With Face Masks To Rob – Gov Bello Raises Alarm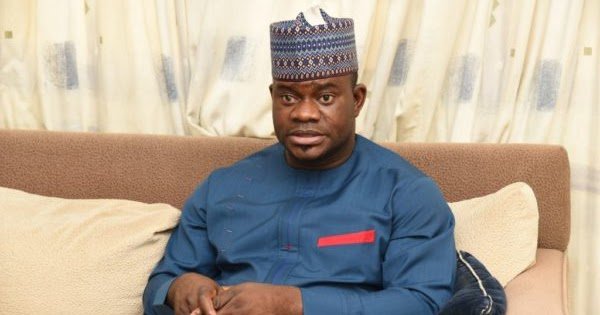 The Kogi State Governor, Yahaya Bello, has insisted that the COVID-19 pandemic was exaggerated in Nigeria.
The governor who spoke on Friday in Lokoja at the formal reception of delegates of the Nigerian Media Merit Awards, said some criminals are now hiding their identities using face masks meant to protect against the spread of the Coronavirus pandemic to rob people.
Governor Bello said he has been informed that malaria/fever is far deadlier than COVID-19 which according to him has been over-lauded in the country.
He said: "In fact, criminals were even using the face mask to disguise. They close their faces and lodge in hotels. They go to places, so you can't identify them. I was made to understand that coronavirus was less than one per cent lethal; even ordinary fever is more lethal than coronavirus."
Governor Bello stressed that he would not cage the people of Kogi State because of the Coronavirus pandemic, insisting that the nation has witnessed disease even more deadly than the viral disease.
He added: "We continued until when we were almost compelled to lock down and that was the turning point. When you see an enemy coming, I have not seen who the enemy is or who they are, how armed they are, and then I would tell my people to go into hiding, die of hunger, die of deprivation and what have you.
"When I see the enemy and I see the weapon they are holding and I don't have a superior weapon to counter them then I will know the decision to take for my people. I will not lock my people down because of coronavirus because we have had incidences of the outbreak of more dangerous diseases in Kogi State.
"We have Lassa fever, we have yellow fever, we have communities where certain substances were consumed and we have had cause to control all that in Kogi State without blowing it out of proportion. So, why should I lock my people down?".
Governor Bello feared that restricting residents of their movement because of the COVID-19 pandemic could cause a lot of harm.
"It could be economic, there would be security implication; in fact, it could even lead to corruption," the Governor reiterated.