There Is An Alleged Plan To Kill Me – Rev Fr Mbaka (Video)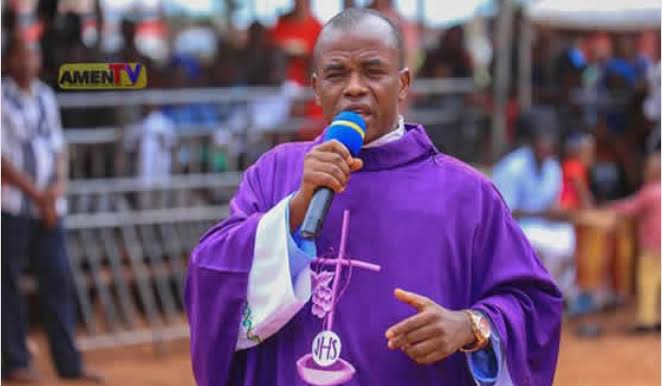 The Spiritual Director of Adoration Ministry, Rev Fr Ejike Mbaka, on Friday revealed that there is an alleged plan to kill him.
Mbaka in a video on his Facebook account noted that those behind the plan are not sure of whom to blame for their plan.
He noted that they are thinking of blaming the Indigenous People of Biafra or the Federal Government of Nigeria for his assassination.
The cleric, however, stated that he is not afraid of anyone, as the information on the social media about the plan to kill him did not state the day he would be killed and he is still alive and addressing his members.
Mbaka asked people behind the alleged plan to try killing him, adding that he serves the most high God and he is not alone.
He added that there are mystical beings around him that can not be seen that give him encouragement and authority with a dominion power.
Mbaka questioned why the planners are after his life, adding that he is not a hate preacher and if God had told him to say President Buhari is doing well he would do it, as the president would not pay him when he passes the message of God.
He noted that his major assignment is to preach to the sinner and he would not stop sinners coming to his church has he does not have the power to do so.
Watch video here