Anambra Governorship: Fr Mbaka Speaks On Who Will Emerge Winner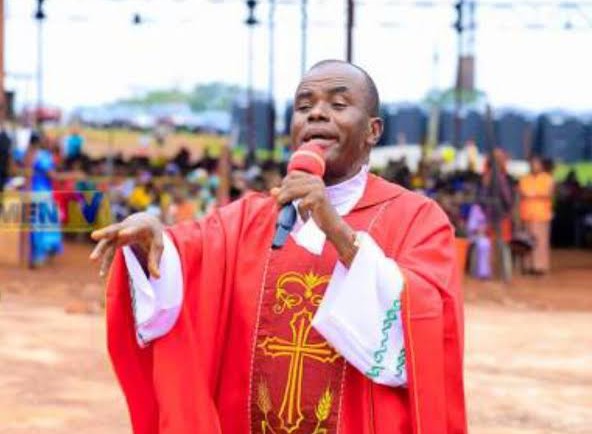 The Spiritual Director of Adoration Ministry, Rev Fr Ejike Mbaka, has spoken on the forthcoming Governorship election in Anambra State.
Mbaka while speaking after completion of the annual harvest, thanksgiving and bazaar of the Adoration Ministry said no politician should try to politicize programmes in his church.
He cautioned that no political office holder should think they have bought him over because they give money to his ministry.
Mbaka in the video on his Facebook account noted that he would return their money if they ask for a refund.
The cleric who noted that some people urged him not to attack the administration of President Muhammadu Buhari again, said his ministry has lost a lot of people under this administration.
This is coming after South-East Governors pleaded with Mbaka to stop attacking President Buhari.
Mbaka who spoke on the Anambra State Governorship election noted that he has not endorsed any candidate for the forthcoming electoral process.
He added that most of the candidates contesting for the election have come to visit him and his job is to bless them.
The cleric stated that God has not told him that anybody will become the Governor in Anambra State.
Mbaka noted that the governorship candidate of APGA, PDP, and the APC are his friends.
According to the cleric, anybody whom God wants to be the Governor of the state should be, but people are free to come to his church to be blessed.