Fintiri Backs Atiku Abubakar's Presidential Ambition, Issues Warning To PDP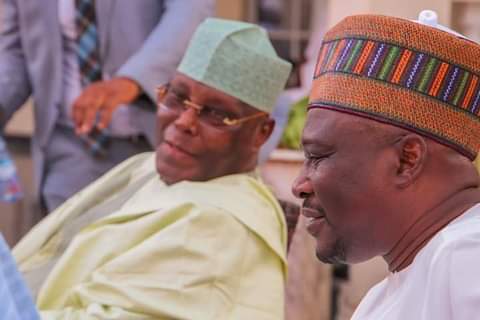 Governor Ahmadu Fintiri of Adamawa State has stated that he is ready to back former Vice President Atiku Abubakar if he is given the Peoples Democratic Party (PDP) presidential ticket in 2023.
Speaking in an interview on Channels Television on Tuesday, the PDP convention planning committee chairman stated that Atiku has the "intelligence" to win the 2023 election.
The Adamawa governor promised to campaign across the country to make sure Atiku succeeds President Muhammadu Buhari.
"I'm a supporter of everybody and he (referring to Atiku) is a leader. He is my father; he is a leader to everybody in PDP. He is our last presidential candidate and if given the opportunity again, I will support him," he said.
"By every intention you can read all over, you know that he has the experience and the intelligence to run and win the election and deliver properly.
"If he is given the ticket by my party, I will not deny him. I will ensure that I will deliver him and I will work across this country to sell him and market him to every Nigerian who believes in him and also believes in me."
Speaking on zoning of the presidency, Fintiri urged the PDP to open it's ticket to every region in Nigeria.
According to him, zoning is not what Nigeria needs as the country is in dire need of a leader that his capable.
"We have just zoned the party's offices. We would soon again come back to take the decision on the presidency and Fintiri alone does not constitute the body that would take the decision on the zoning for the presidency for my party," Fintiri said.
"I so wish that it would become open because the problem of Nigeria is not about zoning. It is for us to look for a credible candidate, anywhere that person comes from.
"Irrespective of religion or tribe, what Nigerians are after today is to have a good leader; a good leader that would be able to deliver on the economy, that would be able to deliver on our security, that would impact on human development; a good leader that would be able to deploy the kind of infrastructure that we need in this country, that can roll out the economy properly so that the country can take its position in the comity of nations."
Download NAIJA NEWS app: