#EndSARS Memorial: Buhari Cancels Visit To Daura For Security Reasons – Source Reveals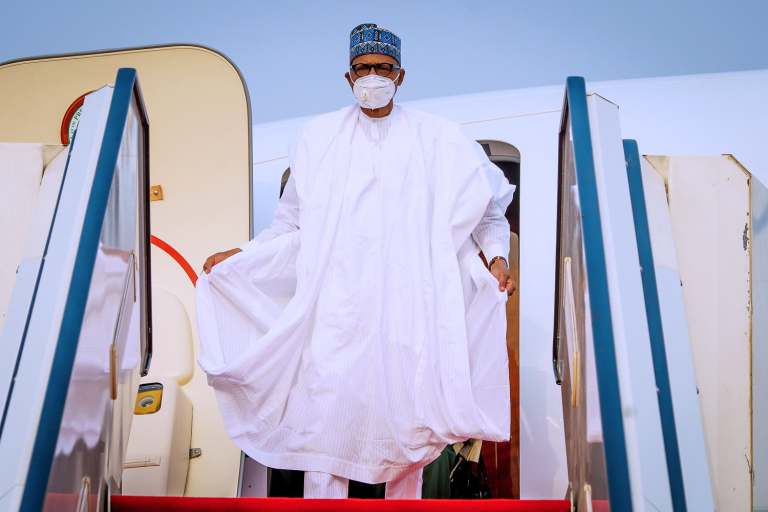 President Muhammadu Buhari has reportedly cancelled his planned visit to Daura, Katsina State.
Naija News understands that the President was expected to be in Daura his home town this weekend for a reportedly short rest.
However, reports emerging on Thursday (today) claimed that Buhari's trip has been aborted for the fear of planned protest across the country in commemoration of the first anniversary of the nationwide #EndSARS protest.
A presidential source who reportedly spoke with SaharaReporters earlier said the president's planned vacation was necessary due to his recent activities which are tasking.
"He's departing for Daura this weekend for home rest. He just wants to go and rest. He will return next week," the presidential source was quoted as saying on Wednesday, October 13.
However, the sources again on Thursday disclosed that the trip has been cancelled over the planned #EndSARS memorial protests on October 20, 2021.
"The earlier trip to Daura has been stepped down over threats of the resurgence of #EndSARS memorial uprising," SaharaReporters quoted the source saying.
Popular activist and former presidential aspirant, Omoyele Sowore has also taken to his social media page, Twitter precisely to say: "The FEAR of #EndSARSProtest is the beginning of WISDOM. Muhammadu Buhari has cancelled his trip to Daura where he was going to rest! But now because of #Endsars for next week, man is scared! No Rest for the wicked!"
Naija News recalls that President Buhari had in September 2021 travelled to the United States to participate in the 76th Session of the United Nations General Assembly (UNGA76), with the theme, "Building Resilience Through Hope – To Recover from COVID-19, Rebuild Sustainably, Respond to Needs of the Planet, Respect the Rights of People and Revitalise the United Nations."
Shortly after his return to Nigeria, the President again participated in the nation's 61st Independence Day Anniversary, an event that needed much energy to be exerted.
The piled activities according to the presidential aide, are hectic and it is paramount that the leader takes some short rest.