2023 Presidency: Nigeria Needs Patriots, Not Ethnic Bigots – Fayemi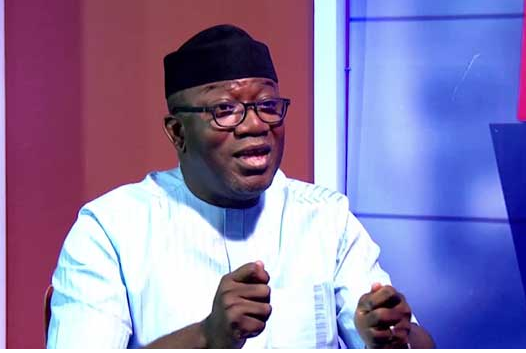 Governor Kayode Fayemi of Ekiti State has asked political and socio-cultural leaders to stop making divisive comments that would tear the country apart.
Speaking at an event on Tuesday in Ibadan, Oyo state capital, Fayemi advised the leaders to look for a new way of communicating their opinions rather than make inciting statements that would cause division in the nation.
He added that Nigeria needs patriots and not ethnic crisis entrepreneurs and bigots who see everything from the prism of ethnic and religious conspiracy.
The governor also asked politicians to communicate their politics responsibly, and not resort to ethnic jingoism, sectarian and divisive rhetoric.
Naija News reports that the debate about the 2023 Presidency has generated a lot of controversies and has pitched the Southern Governors against their Northern counterparts.
At their meeting in Asaba some months ago, the Southern governors had insisted on a power shift to the South in 2023, stating that the reason for their call is in the interest of fairness, equity and justice.
But the Northern Elders Forum (NEF) and the Northern Governors Forum frowned and rejected the call by their colleagues in the South.
Meanwhile, former Vice President Atiku Abubakar has declared that the next President of Nigeria can come from any part of the country.
Naija News had reported that the Peoples Democratic Party, PDP's convention zoning committee zoned the party's chairmanship to the North, a move that has been interpreted by political watchers to mean that the main opposition party will be looking to the South for its standard-bearer in the 2023 polls.
Abubakar, while speaking at the National Executive Committee meeting of PDP in Abuja last week Thursday, pointed out that the geopolitical zone of the President is not the solution to the problems of the country.
He had said: "the Peoples Democratic Party (PDP) has the right to determine its rules and how the party should be governed. The people of Nigeria also have the right to determine who governors them.
"Where the President comes from has never been the problem of Nigeria. I can cite examples — neither will it be the solution.
"There is no such thing as a president from southern Nigeria or a President from northern Nigeria. There is only one — a President from Nigeria, for Nigeria and by Nigerians."