Why Nnamdi Kanu Appears Angry, Insults People, Other Tribes – IPOB Lawyer, Ejimakor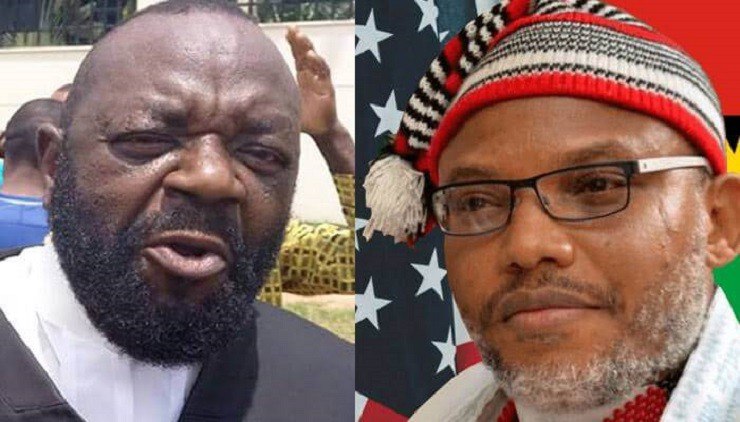 The special counsel to Nnamdi Kanu, who leads the Indigenous People of Biafra (IPOB), Aloy Ejimakor has stated that contrary to what people think of his client, Kanu hates nobody or tribe and has a lot of laughter in him.
Naija News reports that Ejimakor stated this when in an interview with Saturday Sun, his reaction was sought to people's perception of Nnamdi Kanu as an angry man, who is always cursing, abusing and insulting people.
The lawyer responded by saying that the IPOB Leader "has charisma and high intelligence quotient, plus a good heart. He's emotionally stable, and yes – he has a lot of laughter in him, and despite his rhetoric, he hates nobody.
"He hates no tribe. He hates no religion. What he hates is systemic injustice of man against man. That's what drives his rhetoric," he said, and likened Kanu to Nelson Mandela, Mahatma Gandhi and Martin Luther King.
Speaking on the rendition of Nnamdi Kanu from Kenya to Nigeria and his ordeal ever since, the lawyer said, "it is fundamentally wrong for the Nigerian State to levy a lethal military attack on Nnamdi Kanu at his home in Abia State while he was free on bond and having failed to kill him, to then pursue him to Kenya and abduct him without due pro- cess of law.
"The abduction, the torture that followed and the unlawful imprisonment in Kenya, plus his consequent expulsion from Kenya to Nigeria, are manifestly unconstitutional and amount to infringement of his fundamental rights. There's an unbroken chain of notorious violations that started in Afara-Ukwu, Abia State in late 2017 and culminated in Kenya in June 2021.
"It is trite that when a state forcibly takes a fugitive suspect from a foreign country to its territory without giving the person the benefit of the extradition process, it amounts to an act of extraordinary rendition that, without more, triggers insurmountable legal barriers to prosecution.
"Under applicable laws, a renditioned fugitive is entitled to a body of remedies known as collectively reparations, which includes restitution, compensation, rehabilitation, satisfaction and guarantees of non-repetition."
"Nigeria needs to tread with caution and a keen reference to history as it ramps up on this overly aggressive treason trial of Mazi Nnamdi Kanu. When an alpha patriot like Kanu gets so upset with the system that he begins to seek solutions in separation or self-determination, you talk to him; you don't subject him to trials and tribulations," Ejimakor told the newspaper.