Moghalu Defects To New Political Party After Dumping YPP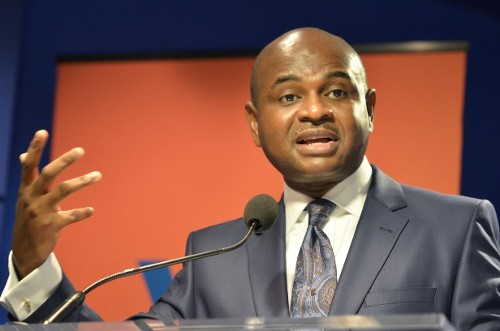 Former deputy governor of the Central Bank of Nigeria (CBN), Kingsley Moghalu, has joined the African Democratic Congress (ADC).
Naija News reports that the former presidential candidate had dumped the Young Progressive Party, YPP, after the 2019 election.
Moghalu, who has made his intention to contest the 2023 presidential election, announced his new party on Friday.
Speaking on Friday, the 58-year-old had declared faith in the ability of Nigerian youths to re-engineer Nigeria's economy.
"I ask all my politican supporters to join the ADC," he said.
Moghalu had lost the 2019 election, finishing 14th from eventual winner, Muhammadu Buhari.
The former CBN Deputy governor polled 26,039 votes against Buhari's 15.1 million votes.
Meanwhile, the race towards the 2023 presidential election is getting stringent on daily basis as top names in the political scene expresses their interest to contest in the electoral process.
There have been speculations that the National Leader of the All Progressives Congress, Bola Tinubu wants to take over from President Muhammadu Buhari when his tenure ends in 2023.
However, this has not stopped the possibility of former Vice President, Atiku Abubakar, trying his luck again in the 2023 general elections.
Others have also expressed interest to contest in the election which determines the face of the country on the international scene.
The tight race has seen politicians from the South clamour for the main political parties to field candidates from the region in the forthcoming election.
However, on Thursday, three former Governors of the Peoples Democratic Party declared intention to contest the 2023 presidential ticket.
According to Daily Post, the former Governors after the 94th National Executive Council (NEC) meeting in Abuja, expressed their interest to fly the party's ticket in 2023.
The Deputy National Chairman (North), ex-Senator Suleiman Nazif and former Gombe Govenor, Ibrahim Dankwambo who are from the Northeast expressed their interest.
The other two are from North-West: Ex-Kaduna Governor and former PDP Caretaker Chairman, Ahmed Makarfi and former Katsina Governor, Ibrahim Shema also declared their intention.