Many Killed As Bandit Terrorists Attack Zamfara Community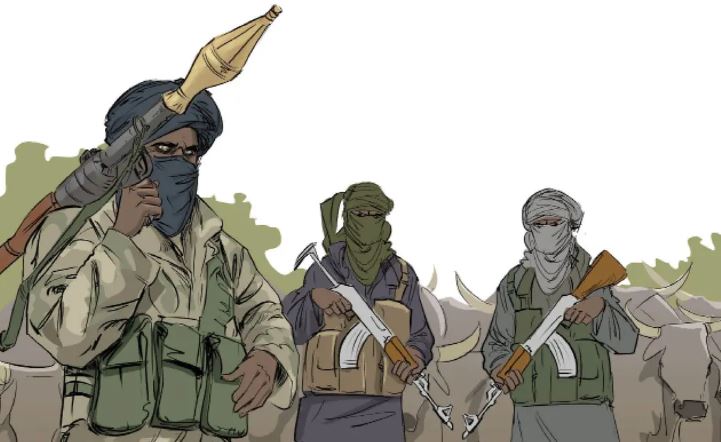 Gunmen suspected to be bandits have attacked Kuryar Madaro community of Kauran Namoda Local Government Area of Zamfara State.
The attack which occured on Tuesday left many villagers dead, while many vehicles and houses were set on fire.
According to residents, the gunmen attacked the community at around 10pm and spent hours on the rampage.
Residents told BBC that the assailants also looted foodstuffs and animals.
Confirming the attack, the Zamfara State Police Command said it had dispatched its personnel to the community.
Kuryar Madaro is one of the areas in Zamfara State that had witnessed telecom service blackout.
People from the area, who travelled to Gusau, the state capital, where telecom was restored, told the BBC that the gunmen set 13 houses on fire and burnt 16 vehicles including one belonging to the police.
"They looted foodstuffs from provision stores and set the shops on fire," a resident said.
Meanwhile, no fewer than ten Muslim worshippers have been reportedly killed by armed bandits in Katsina State.
The terrorist group according to reports, attacked Yasore, a village in the Batsari Local Government Area of the state on Tuesday evening, attacked the worshippers who were observing Magrib prayers.
Naija News learnt that the assailants invaded the community on motorcycles at about 6:30 pm displaying sophisticated weapons. Upon sighting the worshippers, they reportedly opened fire on them.
It was revealed that the bandits rid the residents of their money, phones, clothes, foodstuff, and other personal items. They also rustled several domestic animals after they burned down houses and food stores.
In their testimony, residents lamented that the telecommunication shutdown in the council prevented them from reaching out for help from security agencies as the bandits operated for several hours before leaving.