Malami Doubles Down On Statement That Made Miyetti Allah Hail Him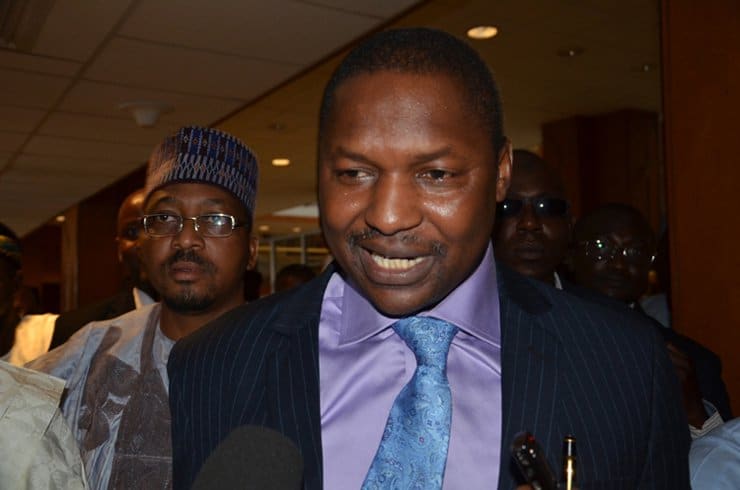 The Attorney-General of the Federation (AGF) and Minister of Justice, Abubakar Malami SAN, has continued to disagree with those criticizing his dissent with southern governors' position on open grazing, stressing that his opinion on the vexed issue was not outside the scope of the country's constitution.
Naija News recalls that Miyetti Allah Kautal Hore had commended the Office of the Attorney General for supporting its plan to challenge the anti-open grazing law enacted by Southern Governors. This was after Malami's Special Assistant on Media, Dr Umar Gwandu, encouraged herders to fight for their rights if they feel such rights are being violated by the ban on open grazing.
Reacting to criticisms that have trailed this comment in some quarters, the AGF said: "Well, on the issue of farmers/ herders clashes, no position was taken by the Office of the Attorney General outside the scope of constitutional provisions".
Malami, who spoke while fielding questions from State House correspondents at the end of Wednesday's virtual Federal Executive Council meeting presided over by President Muhammadu Buhari at the Presidential Villa, Abuja, said, "The position of the Office of the Attorney General, is about freedom and liberty of movement among others…
"And what the Office of the Attorney General has simply succeeded in doing is making a reference to relevant constitutional provisions and established a position that each and every Nigerian is entitled to freedom of movement simpliciter.
"So, the issue is whether that freedom of movement is constitutionally guaranteed, or is not. And my answer to it is, the freedom of movement is indeed, constitutionally guaranteed."