Pandora Papers: Presidency Reacts To Corruption Scandal Involving Bagudu, Oduah, Others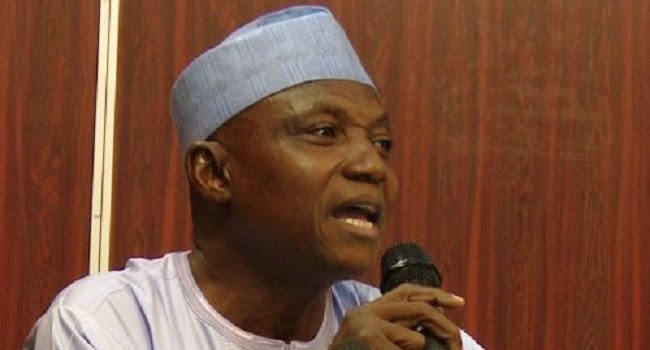 The Presidency has reacted to the corruption scandals involving  Governor Atiku Bagudu of Kebbi State, former Minister of Aviation, Senator Stella Oduah, among others.
Naija News reports that Bagudu, who chairs the Progressive Governors' Forum (PGF), and Oduah, who recently defected to the All Progressives Congres (APC), have been accused of corruption by the Pandora Papers.
In an interview with Daily Trust on Tuesday, Senior Special Assistant to the President on Media and Publicity, Garba Shehu, stated that the Presidency will comment on the development soon.
He disclosed that the Economic and Financial Crimes Commission (EFCC) and the Ministry of Justice are responsible for any action on the matter.
Shehu added that the two institutions will advise President Muhammadu Buhari on the next line of action.
"Before you come to the Presidency, I will advise you to go to the EFCC and the ministry of justice because they are responsible.
"Let them advise and let us know what they are saying," he said.
The Pandora Papers was created by the International Consortium of Investigative Journalists (ICIJ) a nonprofit newsroom and network of journalists centred in Washington, D.C., which exposes a global entanglement of political power and secretive offshore finances and dealings.
The investigation which involved over 600 journalists and over 100 media organisations have already exposed the financial dealings of politicians, former and serving public officials, and some notable Nigerians.
Bagudu has been accused of getting his wealth through a former Head of State, late General Sani Abacha, by using phoney companies to siphon and move funds allegedly stolen by the late dictator.
He was also accused to have dispatched a delegation to Singapore in search of a new haven to shelter funds, which is a target of ongoing forfeiture proceedings by the United States Department of Justice.
It was reported that huge funds, warehoused offshore, are part of billions of dollars Bagudu and his brother, Ibrahim, allegedly helped the Sani Abacha family to steal from Nigeria in the 1990s.
While Oduah was accused by the Pandora Papers of secretly acquiring four London properties, hiding behind an anonymous offshore company and possibly committing a breach of Nigeria's public service code of conduct law.
She reportedly purchased the properties between 2011 and 2014 when she served as a minister under the administration of former President Goodluck Jonathan.
While different courts have ordered the freezing of assets linked to Oduah in Nigeria over her indebtedness to banks, the four anonymously acquired London properties – alongside one other bought in her own name and two others bought in the name of her Nigerian-registered company – remain owned by her.